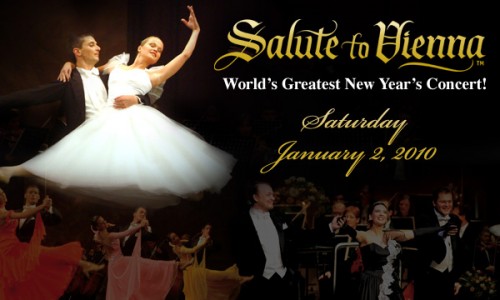 Salute to Vienna
New Year's Tradition at the
Adrienne Arsht Center for the Performing Arts
Saturday, January 2 @ 8pm
John S. and James L. Knight Concert Hall
What a fantastic way to celebrate the New Year with Salute to Vienna as it returns for another sensational performance! Inspired by Vienna's world-famous New Year's Concert, Salute to Vienna brings the same splendor, charm and beauty to North America. Fall in love with Vienna's "Waltz King," Johann Strauss Jr., in an unforgettable and uplifting, performance of music, song and dance!
Enjoy a brilliant cast of over 75 musicians, European singers and magnificent dancers: a brand new cast and a splendid new program features operetta excerpts, popular waltzes, polkas and marches. Guaranteed to inspire and delight!
What The Nutcracker means to Christmas, "Salute to Vienna" means to the New Year!
Don't miss this exciting and joyous performance!
FEATURING:
The Strauss Symphony of Americaâ"¢
Klaus Arp, conductor (Frankfurt-Vienna)
Ute Ziemer, soprano (Vienna)
Thorsteinn Árbjörnsson, tenor (Vienna-Iceland)
With dancers from:Kiev-Aniko Ballet of Ukraine
BUY TICKETS NOW
Or call our box office at 305.949.6722.
The Adrienne Arsht Center for the Performing Arts of Miami-Dade County
1300 Biscayne Boulevard, Miami, FL 33132