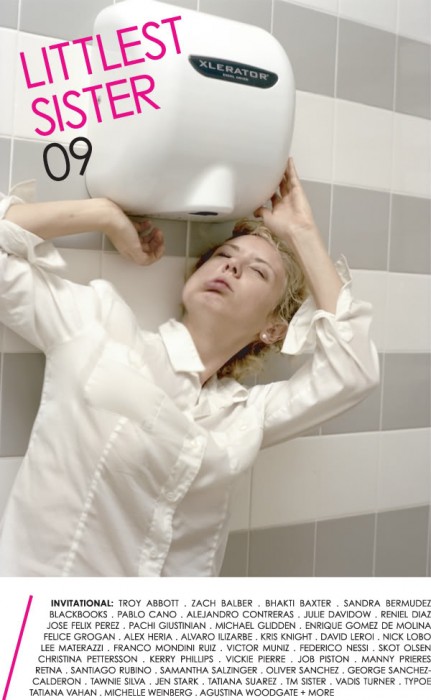 Spinello Gallery, (155 NE 38 ST, No. 101, Miami, Florida – 33137) is proud to present LITTLEST SISTER 09 / INVITATIONAL, playfully commenting on the proliferation of the "Art Fair" as the viewer ironically steps back into the gallery.
If you're looking to find small diamonds in the rough, look no further. In its second edition, Art Basel Miami Beach finds her baby sibling at SPINELLO GALLERY. LITTLEST SISTER 09, the smallest art fair in town, is conveniently located in the Design District and is sandwiched between Design Miami, Art Miami, Photo Miami, Scope, and Red Dot. The FREE art fair consists of 8 booths, all 4′ x 8′ in size. The scaled down booths uniquely house 50 of todays most provocative artists with a predominant focus on local Miami artists, curated by Denis Tejedor (Assistant Curator of Bass Museum) and Art Fair Founder, Anthony Spinello.
LITTLEST SISTER 09 is a fragment of the explosive satellite art fair phenomena; exploring the "booth" as a venue to exhibit and sell art. Since 2002, every December the glamorous art typhoon – Art Basel Miami Beach, takes place in sunny Miami, Florida. The international art show takes place in Miami Beach. It is the American sister event of Art Basel in Switzerland, the most important annual art show worldwide for the past 39 years. 7 years later, the effects of Art Basel Miami Beach spawned 20+ "satellite" art fairs throughout Miami, housing 1100+ galleries and alternative spaces from around the world.
In the spirit of the miniature art fair, we invited the artists to submit works that are true to their individual style, however scaled down in size (approx. 9″ x 12″ and smaller). And like all art fairs, as works sell new works by the same artist will be re-hung.
November 6 – December 10, 2009
ARTISTS: Troy Abbott, Zach Balber, Bhakti Baxter, Sandra Bermudez, Blackbooks, Pablo Cano, Alejandro Contreras, Julie Davidow, Reniel Diaz, Jose Felix Perez, Pachi Giustinian, Michael Glidden, Enrique Gomez De Molina, Felice Grogan, Alex Heria, Alvaro Ilizarbe, Kris Knight, David Leroi, Nick Lobo, Lee Materazzi, Franco Mondini Ruiz, Victor Muniz, Federico Nessi, Skot Olsen, Christina Pettersson, Kerry Phillips, Vickie Pierre, Job Piston, Manny Prieres, Retna, Santiago Rubino, Samantha Salzinger, Oliver Sanchez, George Sanchez-Calderon, Tawnie Silva, Jen Stark, Tatiana Suarez, TM Sisters, Vadis Turner, TYPOE, Tatiana Vahan, Michelle Weinberg, Agustina Woodgate + more.
Press & Collectors Preview Benefit: November 6th / 7-10PM
[ Coinciding with Locust Projects Annual Fundraiser. A portion of the proceeds will be donated to Locust Projects ]
Design District Gallery Walk Preview: November 14th / 7-10PM.
Littlest Vernissage: December 1st / 7-10PM.
Art Basel Public Show Days: December 1 – 5 / 11AM – 8PM
* ABOVE IMAGE: LEE MATERAZZI, HAND DRYER, EDITION OF 10, 6″ X 4.5″, C-PRINT, 2009
SPINELLO GALLERY prides itself in exhibiting intelligent works of art in every medium by contemporary local Miami emerging artists. SPINELLO GALLERY has become the playground for unorthodox and experimental artists who don't easily fit into the confines of the traditional gallery space. SPINELLO GALLERY is steadily making headway in the Miami Art Scene and beyond becoming a contender in the Art World.
info@spinellogallery.com
SPINELLO GALLERY | 155 NE 38 STREET, No. 101 | MIAMI | FL | 33137