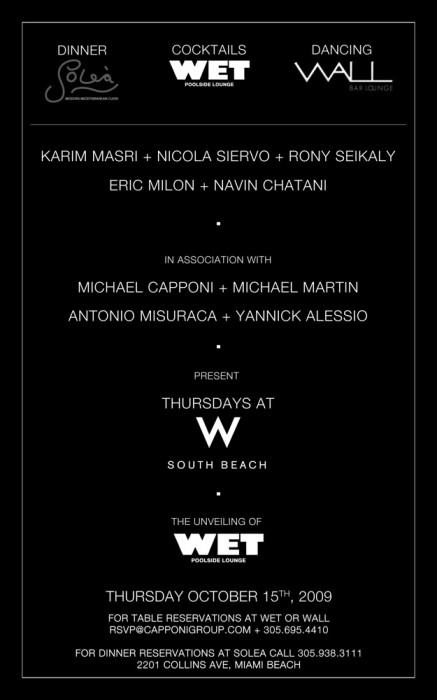 From Michael Capponi
Hi everyone!
I am excited to announce my latest endeavor the launch of Thursdays at the W. This new weekly event begins this Thursday at SOLEA, WET and WALL. It is a combination of dinner, cocktails and nightlife. Begin the night dining at SOLEA, the new modern Mediterranean influenced restaurant located inside the hotel and then head to WET, the new poolside lounge. The event will move into WALL later in the evening.
For the first time in almost 15 years, Nicola Siervo and myself have merged to do this new Thursday partnership. Other nightlife staples such as Eric Milon, Karim Masri, Michael Martin, Navin Chatani and Antonio Misuraca are also involved.
Please join me at the launch Thursday, October 15th. It will be a great evening of people, music, and entertainment you will not want to miss. The party starts at 9pm and be sure to get there early, as we are expecting a huge crowd. To rsvp and table reservations please call 786-395-5238 or email rsvp@capponigroup.com.
I look forward to seeing you!