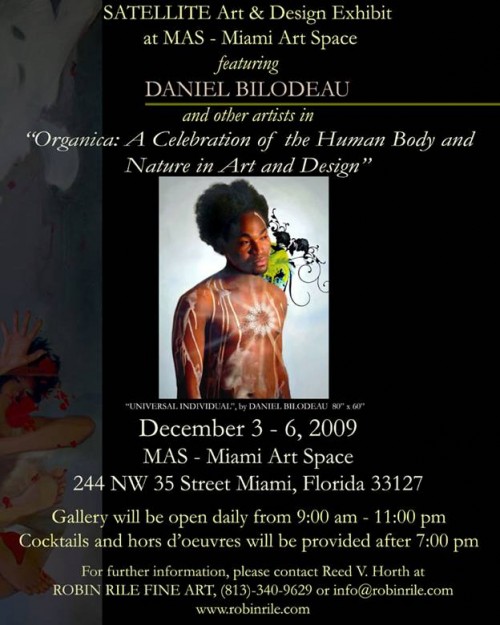 Event Visions Consulting in association with Dieko's Galleries & The Arts in Action Company Presents: SATELLITE Art & Design Exhibition at MAS-Miami Art Space DECEMBER 3 – 6, 2009
The December 2009 SATELLITE Art + Design Exhibition at Miami Art Space marks the launch of a global art initiative to showcase artists of all mediums and well-known and emerging designers from all over the world through innovative exhibitions & sophisticated receptions.
The overall theme for SATELLITE is Organica: A Celebration of the Human Body and Nature in Art and Design.
In addition to the inclusion of works by artists from the USA, Brazil, Colombia, Cuba, Greece, Italy, Spain and Slovenia, SATELLITE will also feature a curated exhibition by Reed V. Horth & Paul Fisher. Works will include
world-renowned modern and contemporary artists, sculptors, visual and glass artists such as the great Salvador Dali, Diego Rivera and Bruce Helander, among others. Independent filmmakers will be filming scenes for the movie
"Pop goes the Easel" based on Andy Warhol and Peter Max in the 80's.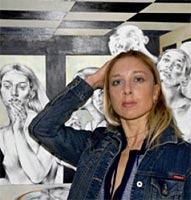 Viktorija Bulava (Latvian, b. 1978)
Adroitly rendered human figures frame the golden inner workings of a Grand Piano. Gently contorted bodies eschew gravitational limits in a luscious dance of rhythm and grace. The beautifully executed musculature dares the viewer to compare a more perfect form. Surrounding architecture and the piano's surface are adorned with gold and silver leafing. It shimmers with the adjoining lush reds, sapphire blues and always the masterfully realized colors of sensuous flesh tones.
Viktorija (pronounced "Victoria") Bulava approaches her work with many highly acclaimed academic accomplishments. They include a Master of Art Science Degree from the Latvian Academy of Arts in 1996 as well as several prestigious international awards and scholarship grants. The artist's home is Riga, Latvia. It is a city renown for its rich heritage of great painters and sculptors throughout the centuries. Riga is also home to the finest collection of art nouveau buildings in Europe. That influence is decidedly apparent in many of Viktorija Bulava's works.
Bulava renders her mixed media canvases with precise draftsmanship and at times a liberal incorporation of varying surface treatments. Her techniques are complex and refined. Often in her imagery she marries the classical rules of good composition with modern, nearly kinetic, background styles. Other works are augmented with a buildup of plaster-like areas, which are then hand etched or incised with flowing patterns producing a brightly colored cloisonné effect. Viktorija Bulava is a painter of beautifully aesthetic renderings. Her work exemplifies the gifted talent of civilizations most masterful artists.
ALSO:
Salvador Dali (Spanish, 1904-1989)
Winged Triton (prestige scale)
Bronze with Green patina
78 x 77 x 43cm (30.7 x 30.3 x 16.9 in)
Prestige Edition of #5/19
Signed "Dali" in cast
Provenance: Private collection, Florida, USA
Original certification from publisher
A.P. casts of the 78 x 77 x 43 cm edition are part of the permanent collections of the Spurlock Museum (Illinois, USA) and of the Memorial Art Gallery (New York, USA).
In mythology, charitable half-god who comes from the depths of the sea, on occasions he is also bloodthirsty. According to the legend, Triton used to appear above the waters to calm the waves and lull the storms.
Did Triton ever emerge from the deep waters at Cape Creus? Did Dali ever see him all powerful conquering the forces of nature? This thought comes to our mind when we see how many drawings are conserved in which the painter, with raised hand, drew various silhouettes of Neptune's son.
And:
Salvador Dali (Spanish, 1904-1989)
"Woman Aflame" (Femme Aflame)
1980
Edition #263/350
Bronze
84 cm.
Literature: Descharnes, Robert & Nicolas. Catalogue Raisonne "Le Dur et le Mou", pg. 255 Ref #655
Certification: Original publisher certificate
Provenance: Salvador Dali to original publisher to present owner.
Woman Aflame: Fire is a constant theme in the oeuvre of Salvador Dali" reminiscences of grilled sardines on a rosemary fire accompanied by a thimble of muscatel in the coves of the Cap de Creus and the summer fires that burned the olive groves and the oaks of the hills of Cadaques. The flames of these fires were engraved in his memory. In the thirties, a small brushstroke sufficed to inflame these figures furnished with drawers, pianos, trombones, cypresses, and a desert with flaming giraffes or elephants or rhinoceroses. The same flames and sparks that illuminate the night of March19- the Fallas of Valencia. The graceful sculpture Woman Aflame illustrates this unexpected application of flames to a human body supported by a crutch, provided with nine, half-opened drawers whose contents are filled with mystery. – Robert & Nicolas Descharnes, "Le Dur et le Mou", pg. 255.
Artist Roster: Carlos Cesar Alves, Ana Andras, Paul Andras, Daniel Bilodeau, Andre Brandao, Viktorija Bulava, Jure J. Cekuta, Salvador Dali, Alvaro Daza, Jack Dowd, Phillip Dvorak, Raul Frontal, Susan Gott, Bruce Helander, Richard Holton, G. Mayo, Flor Ana Mayoral, Philip Ross Munro, Melanie Prapopoulos, Diego Rivera, Carlos Rodriguez, Diana Rodriguez, Gloria Sesana, Marc Sijan, Ryan Paul Simmons, Hunt Slonem, Ezra Talmatch, Vilijus Vaisvila, Gerard Valls, Andy Warhol, and Robert Wilson. Wooden sculptures in performance areas and provided by George Wells-Adirondack Wood Art (AdirondackWoodArt.com).
Design Exhibitors: Colombostile (colombostile.it), Il Vetro Dei Dogi (idogi.com) and lounges by PIE Studio (projectimportexport.com).
PREVIEW EXHIBITION DATE: November 14, 2009
EXHIBITION DATES: December 3 – 6, 2009
SCHEDULE OF EVENTS:
November 14th – Preview Reception – Arts Walk 7pm – 10pm
Artist Talk & Show by Bruce Helander and various Satellite Artists
Thursday December 3rd Exhibition: VIP Preview 3pm -7 pm
Opening Night Celebration: 7pm -11pm
Friday December 4th Exhibition: 9am – 7pm
Cocktail Reception & Performance Artists: 7pm – 11pm
Saturday December 5th Exhibition: 9am – 7pm
Cocktail Reception & Performance Artists: 7pm – 11pm
Sunday December 6th Exhibition: 9am – 6pm
LOCATION:
MAS – Miami Art Space
244 NW 35th Street
Miami, Florida 33127