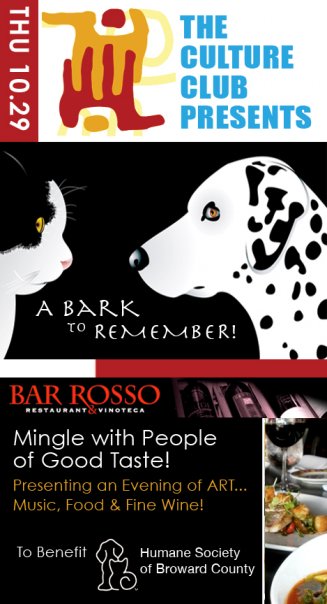 PETS HAVE VOICES TOO!! HERE IS TO A GREAT CAUSE!
(((( THE CULTURE CLUB
IS PROUD TO ANNOUNCE
THEIR 1ST EVENT EVER )))
To benefit the Humane Society
Mingle with People of Good Taste!
An Evening of ART… Music, Food & Fine Wine!
Intermingle among all these elements …
sure to spark up a conversation or two
Mini Art Fair in Enclosed Terrace
Featuring Artist of ALL Mediums
Wine Tasting and Light H'orderves
Classical Music & Live Pianist
Special Wine & Appetizer Menu
HUGE RAFFLE! of Custom Art Pieces by Participating Artists
Note: The Cat & Dog Illustration is courtesy of "In The Glaze" and will be presented
in a Ceramic Tile Finish. The final piece will be raffled off at the Event.
Bar Rosso, 19004 NE 29TH Ave, Aventura, FL
Admission: $10 at the door (1 Complimentary Glass of Wine)
Complimentary admission with table reservation.
To learn more about the restaurant go to http://www.barrosso.com/
A portion of the proceeds from this event will be donated to
the Humane Society.
Email TheCultureClub@HypeEventsFl.com 4Q's
WE HAVE ROOM FOR MORE ARTISTS
Email your work if you are interested.
We will contact you back by phone.