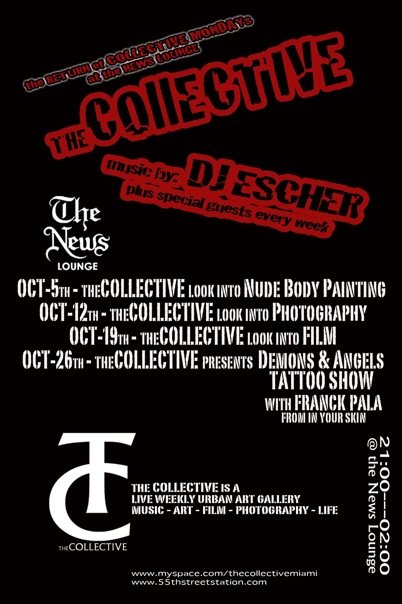 the COLLECTIVE look into photography.. beats by Escher-Gooddroid-Mr Hasty
the News Lounge 5580 NE 4th CT Miami Fl 33137
Monday, October 12, 2009 at 9:00pm
theCOLLECTIVE look into Photography..
We have a sick line up this & every monday..so show up to find out. Live ART Installations By : Don Juan Pablo… thats how we flipped the game.. jea!!!!
the COLLECTIVE BACK EVERY MONDAY @ the New Lounge..
BEATS BY ::: DJ ESCHER – GOODDROID – Mr -Hasty
music-art-film-photography-life
never a cover!!!! show statrs @ 9pm
theCOLLECTIVE
is a Live Urban Art Gallery.. try it we bet youll like it
Thank you for using Soul Of Miami!