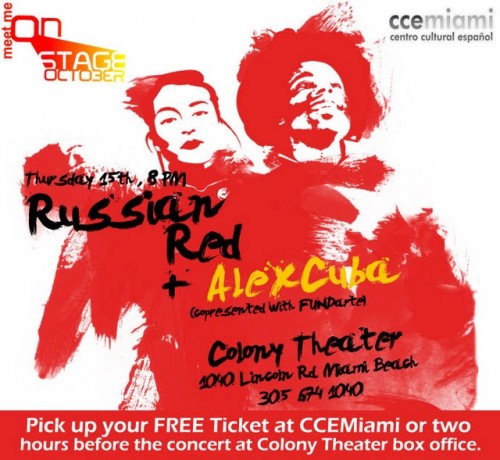 BEYOND CCEMIAMI. RUSSIAN RED AND ALEX CUBA
DATE: 10-15-2009
TIME: 8 pm
Program to promote Spanish culture
At Colony Theater.
1040 Lincoln Road
Miami Beach, Fl. 33139
Off. 305-674-1040
Free Admission
You decide how much you pay.
RUSSIAN RED is the stage name for Lourdes Hernández, a singer-songwriter based in Madrid, Spain. Her beautifully crafted, minimal songs beam delicate folkharmonies and lustrous vocals. The band was originally formed in 2007, by Lourdes and Brian Hunt, with whom she had previously recorded some songs, and who will help her recording her first album. Before it was released, they split up. The moniker for Lourdes comes from a lipstick color she frequently uses. http://www.myspace.com/russianready
ALEX CUBA is the star singer-songwriter of the moment. Born in Artemisa, Cubaresides in Vancouver, Canada and lives in a universal music realm between both places. His sugar sweet melodies with pop-soul go far beyond what we know as Cuban music. Alex Cuba is ahead of the game creating a cultural sound that reflects his geographical journey without attaching to tradition. He rather grab his Gibson vintage guitar that the cowbell. ALEX has received two Juno Awards: Best World Music Album in 2006, Humo De Tobaco, and in 2008 for Agua Del Pozo. www.alexcuba.com
More Info.