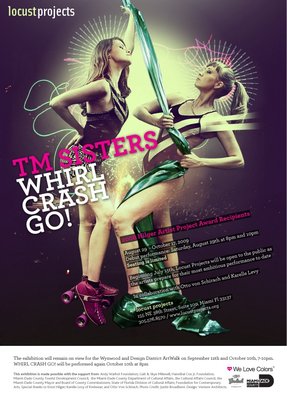 Saturday is the last night to see the TM Sisters – Monica Lopez De Victoria and Tasha Lopez De Victoria – present their groundbreaking performance exhibition WHIRL CRASH GO!
It's going to be a crazy show combining video, lights, music, rollerskateing and synchronized swimming(!?!?!). It's a huge collaboration together with everyone's favorite Miami designer Karelle Levy and audio composer Otto Von Schirach, There will be moments of clashing and combination of cultures, animated video projections, and vivid Miami spirit.
Please note Locust Projects new location in the design district:
155 NE 38th St # 100
Miami, FL 33137-3627
(305) 576-8570
Thank you for using Soul Of Miami!