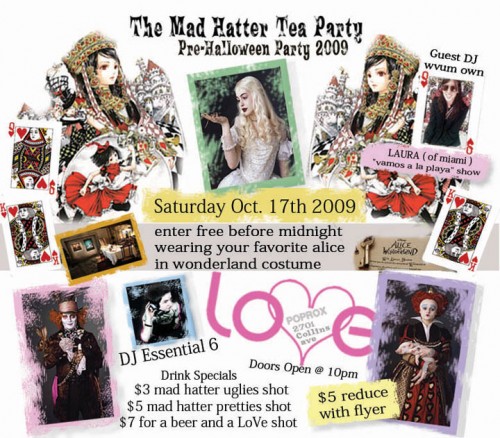 "If I had a world of my own, everything would be nonsense. Nothing would be what it is, because everything would be what it isn't. And contrary wise, what is, it wouldn't be. And what it wouldn't be, it would. You see?
– From Alice in Wonderland
YOU'LL FALL IN LOVE WITH LOVE….Miami New Times
The Mad Hatter Tea Party ( theme ) For the Pretties Pre-Halloween Bash
Saturday Oct. 17th 2009
@ POPROX
2701 Collins Ave. Miami Beach, Florida 33140
Plenty of Free Parking Across the Street
Enter free before midnight wearing your favorite Alice in Wonderland Costume.
Musical Journey by DJ Essential 6
With Guest Dj from WVUM 90.5 FM, Laura (of Miami) "Vamos a la Playa" Show
Come Help Celebrate Marlen's and Santi's Birthday!!!
Doors open @ 10pm
18+ welcome 21+ drink
Drink Specials all night
$3 Mad Hatter uglies shot
$5 Mad Hatter pretties shot
$7 Beer and love shot
Cover $10
To be put on our reduce list send to: loveclub_info@yahoo.comn send us your name (first and last) along with a valid email address.