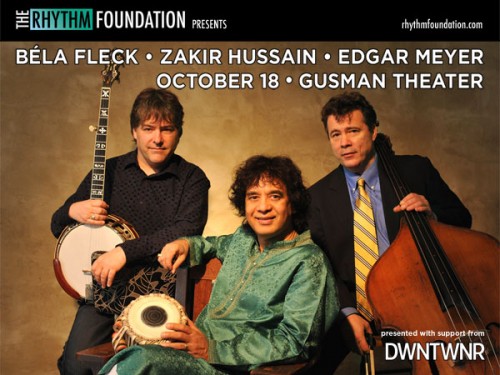 The Rhythm Foundation presents
B̩la Fleck РZakir Hussain РEdgar Meyer
Sun. October 18th, 8 PM at Gusman Theater, Downtown Miami
The Melody of Rhythm: Triple Concerto for Banjo, Tabla and Double Bass
Tickets are on sale through Ticketmaster outlets or the Gusman Theater box office: $22, $32, $42 or $52
Rhythm Foundation website: RhythmFoundation.com
Rhythm Foundation members, call the office 305) 672-5202 for direct ticketing.
Three masterful genre-benders, Béla Fleck, Zakir Hussain and Edgar Meyer are the leading virtuosos on their respective instruments, banjo, tabla and double bass. They move with ease among the worlds of rock, jazz, classical, bluegrass and world music. They share an unprecedented array of projects and pairings among them that touch every geographical and stylistic corner of the musical world. The trio will also release a recording in Fall 2009 featuring music performed on the tour alongside their innovative Triple Concerto for Banjo, Tabla and Double Bass.
Visit Béla Fleck online
Visit Zakir Hussain online
Visit Edgar Meyer online
This concert is presented with support from DWNTWNR and the Miami Parking Authority.