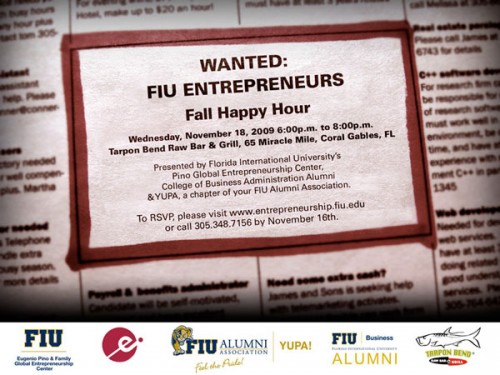 FIU Alumni Entrepreneur Happy Hour
Wednesday, November 18, 2009
6:00p.m. – 8:00p.m.
Tarpon Bend Raw Bar & Grill
$10 for members and $15 for non members
RSVP
On Wednesday, November 18th, FIU's Pino Global Entrepreneurship Center, College of Business Alumni and the FIU Alumni Association will partner in celebration of FIU Alumni Entrepreneurs.
Join us as we celebrate Global Entrepreneurship Week and collect nominations for the 2010 Entrepreneur Alumni Awareness Campaign!
Each year, the Center honors distinguished alumni through their annual Alumni Entrepreneur Awareness Campaign (also known as the Banner Campaign). From now through Friday, November 20, 2009, the Pino Global Entrepreneurship Center will seek new nominations for the 2010 Alumni Entrepreneur Awareness Campaign to identify emerging entrepreneurs among FIU's growing alumni base. It is through this endeavor that the Center recognizes alumni who have created their own businesses in order to spread the word and the spirit of entrepreneurship across disciplines.
As a part of this campaign, a picture of each selected nominee along with their entrepreneurial story is added to a beautifully designed banner that is unveiled during the 2010 Alumni Entrepreneur Happy Hour Celebration this spring. Following the event, the banner is then installed on campus as an inspiration to all young aspiring entrepreneurs!
For more information about FIU's Alumni Entrepreneur Campaign or to nominate an FIU Alumni Entrepreneur, please visit: www.entrepreneurship.fiu.edu or call: (305) 348 – 7156.
For more information about FIU's Alumni Association, please visit: www.fiualumni.com or call 1-800-FIU-ALUM (305-348-3334).