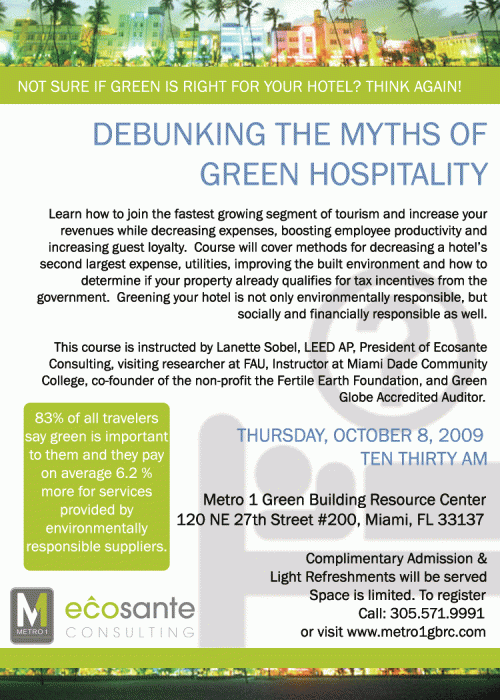 Not sure if Green is right for your hotel? Think Again!
DEBUNKING THE MYTHS OF GREEN HOSPITALITY
Thursday, October 8, 2009 10:30AM
Metro 1 Green Building Resource Center | 120 NE 27th ST #200, Miami, FL 33137
Learn how to join the fastest growing segment of tourism and increase your revenues while decreasing expenses, boosting employee productivity and increasing guest loyalty. Course will cover methods for decreasing a hotel's second largest expense, utilities, improving the built environment and how to determine if your property already qualifies for tax incentives from the government. Greening your hotel is not only environmentally responsible, but socially and financially responsible as well.
This course is instructed by Lanette Sobel, LEED AP, President of Ecosante Consulting, visiting researcher at FAU, Instructor at Miami-Dade Community College, co-founder of the non-profit the Fertile Earth Foundation, and Green Globe Accredited Auditor.
Space is limited. Register today by calling 305.571.9991 or emailing Susie Glass at sglass@metro1properties.com
Metro 1 Green Building Resource Center | 120 NE 27th Street #200 | Miami, FL | 33137
O: 305.571.9991 F: 305.571.9661 E: info@metro1gbrc.com W: www.metro1gbrc.com