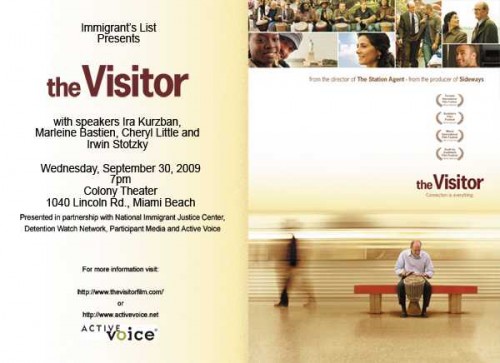 Immigrant's List hosts a special screening of the Academy Award nominated film The Visitor, a compelling story about an American college professor and a young immigrant couple who grapple with the treatment of immigrants and the legal process in post- 9/11 America.
Please join us at The Colony Theater at 1040 Lincoln Road on Miami Beach on Wednesday, September 30 at 7pm.
Following the screening, you're invited to participate in a panel discussion led by Miami immigration attorney Ira Kurzban, and featuring Marleine Bastien (Haitian Women of Miami), Cheryl Little (Florida Immigrant Advocacy Center) and Professor Irwin Stotzky (University of Miami Law School).
The screening is part of Immigrant's List national campaign to raise awareness of the need for immediate and comprehensive immigration reform.
A suggested donation of $50 per person can be made here. (Please bring your printed receipt.) You can also make a donation by cash or check at the box office.
Even if you are unable to attend the screening, please consider making a donation to Immigrant's List. We support pro-immigration candidates for office and work to defeat those who use fear and misinformation to promote an anti-immigrant agenda.
We believe that immigration is a fundamental part of America's social, economic and political life. We believe that immigrants add tremendous value to our nation and to our heritage. We believe immigrants have and will continue to contribute to America's growth and prosperity.
Click here to watch The Visitor trailer.
The screening is sponsored by Immigrants' List, the bipartisan pro-immigration political action committee that supports pro-immigration candidates for Congress.