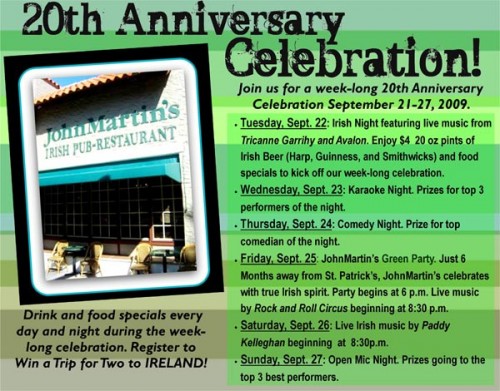 JohnMartin's Restaurant & Irish Pub is hosting a week long celebration to commemorate their 20th year anniversary. During the week of September 21- 27, guests will enjoy daily food and drink specials, live entertainment, prizes and promotions. And they can register to win a Trip For Two to Ireland!
Tuesday, Sept. 22: Irish Night
featuring live music from Tricanne Garrihy and Avalon. Enjoy 20 oz pints of Irish Beer (Harp, Guinness, and Smithwicks) for only $4, along with food specials to kick off our week-long celebration.
Wednesday, Sept. 23: Karaoke Night
Prizes for top 3 performers of the night.
Thursday, Sept. 24: Comedy Night
Prize for top comedian of the night.
Friday, Sept. 25: JohnMartin's Green Party
Just 6 Months away from St. Patrick's, JohnMartin's celebrates with true Irish spirit. Party begins at 6pm. Live music by Rock and Roll Circus beginning at 8:30pm.
Saturday, Sept. 26: Live Irish Music
Enjoy Paddy Kelleghan beginning at 8:30pm.
Sunday, Sept. 27: Open Mic Night
Prizes going to the top 3 best performers.
20th Anniversary Photo Contest
In addition, JohnMartin's is hosting the 20th Anniversary Picture Contest. JohnMartin's is looking for the most memorable pictures taken at the restaurant throughout the past 20 years for the chance to win one of four $100 gift certificates.
The four categories are:
Group Shot
Couple's Shot
St. Patrick's Day Festival
Holiday at JohnMartin's
Submit your entry to johnmartins20th@gmail.com or post to JohnMartin's Facebook fan page. All entries due by 9/16/2009. Winners will be announced on September 25, 2009.
Call 305-445-3777 or visit the JohnMartin's website.