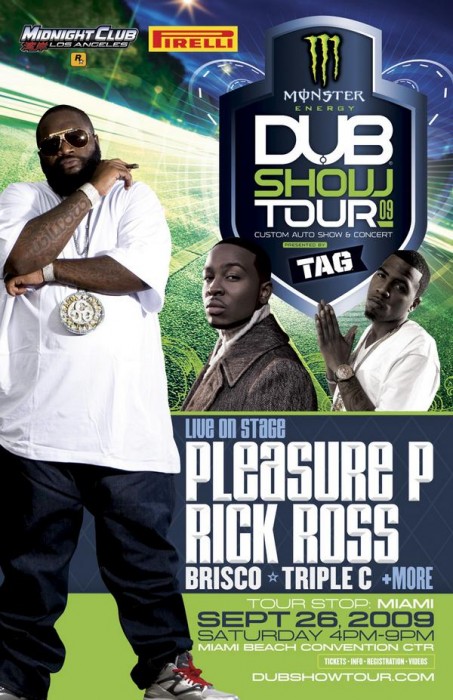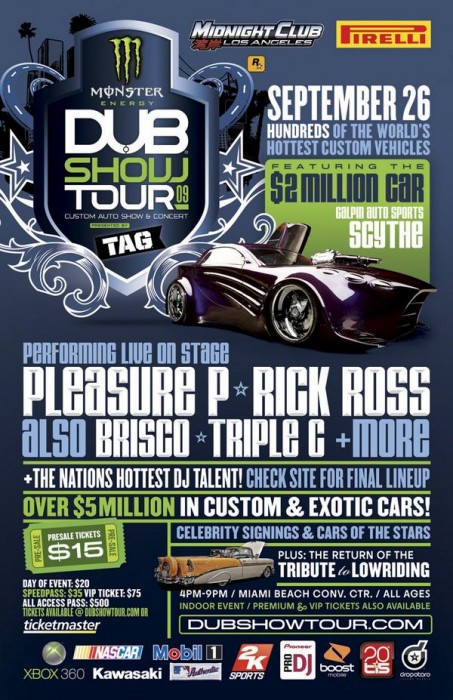 Saturday September 26, 2009
4pm – 9pm
Located at: Miami Beach Conv. Ctr.
Dub Show Miami Beach
Hang with the Kawasaki Street Bike Team including Rickey Gadson, Jason Britton, Kane 'Insane' Friesen, and the Monster Girls! Sample free Monster Energy Beverages & get your chance to win a Kawasaki ZX 14 Street Bike!.
Make sure to check out the Unique Autosports South's booth, where they'll be showing off some of their latest Unique Whips and projects that are considered some of the best in the nation! You'll also have a chance to meet Will Castro and the rest of the Unique Autosports team, too!
MC&A Customs is Miami's one stop shop for all your vehicle customizing needs that caters to celebrities, professional athletes and/or anyone with the desire to have a truly custom ride. We specialize in everything from Rims, Tires, Audio & Video, Custom Fabrications & Interiors, Performance Brakes & Suspensions, Airbrush, Alignments, High Speed Balancing, Paint & Body work.
This year BOWTIE SOUTH is pulling up like never before with a blend of artistry and automotive expertise that promises to be one of a kind. Our Mega Truck will astound you, our Classic Cars will impress you while our never before seen Custom Chopper will leave you wanting more. Come and experience what all the buzz is about.
Stop by the Boost Mobile Barber Shop early to get a free haircut. Slots fill up quickly so come early! Get some cool freebies with the purchase of a Boost product or service!
See some of the nation's finest lowriders at the DUB Show. Think you have what it takes to be featured in the Tribute to Lowriding? Send us your pictures to get registered today!
So you think you have a nice custom Harley, Street bike, or Lowrider bike? Enter it in for a chance to win $1,000 plus a trophy!
Those that missed out on the $2-million Scythe concept car by Galpin Auto Sports unveiled at the 2008 SEMA Show can feast their eyes on the impressive piece of work at DUB's 2009 Show Tour stop in L.A. on March 22, 2009. From the hand-made composite body and voice-activated onboard computer system, to the twin-supercharged 1,005-horsepower engine, this car was built to make a statement.
Play an exclusive demo featuring the Midnight Club Los Angeles Saleen 302E and win limited merchandise including a chance to win a Kawasaki ZX 14 Street Bike! While you're there, don't miss your chance to catch a debut viewing of Midnight Club Los Angeles : South Central. Midnight Club Los Angeles is the only video game to feature cars customized by DUB Magazine. All this goes down at the Rockstar Games Midnight Club Los Angeles booth.
Don't miss the one-of-a-kind DUB Edition Ford Taurus SHO that you can only see at the DUB Shows, inside of the TIS & Dropstars Wheels display! Not available for purchase until later this year, its 365-hp twin-turbo EcoBoost V6, all-wheel-drive and plenty of upgrades makes it one SHO-worthy vehicle you'll definitely want to be seen driving.
Play the latest Xbox 360® titles along with the 'Lips Singing Challenge' at the XBOX 360 Gaming Arcade! Also available are tons of free giveaways. Whether it's sports, music, or action, you'll find it here.
The 2K Sports booth will be stocked up with demo's of NBA 2K10 for you to try out! Giveaways will be handed out by the ladies of 2K Sports.
Don't forget to check out the MLB Road Show Interactive Baseball Experience. The MLB Road Show features free batting and pitching cages, video game kiosks and interactive exhibits.
Check out the hottest wheels to hit the streets at the TIS & Dropstars Wheels display with some of the hottest models on hand to meet and sign posters!
CELEBRITY MEET & GREET : AUTOGRAPH SIGNINGS
Show performers and dozens of celebrities will be on hand to meet in person and signing autographs!
NEW CAR DEBUTS
The top automakers choose the DUB Show Tour to debut never before seen new vehicles, months before they hit the streets!
CUSTOM RIDES & PROJECT CARS
These are the cars that grace the covers of the top customization magazines. One of a kind creations and million dollar concepts from DUB Edition / D20 / Alpine / West Coast Customs / Dropstars / T.I.S. / Giovanna / + More!
NEW AUTOMOTIVE PRODUCTS
Looking to hook up your ride? Take a walk through the DUB Show and check out 2008's newest wheels, body kits, performance parts and interior mods, all under one roof!