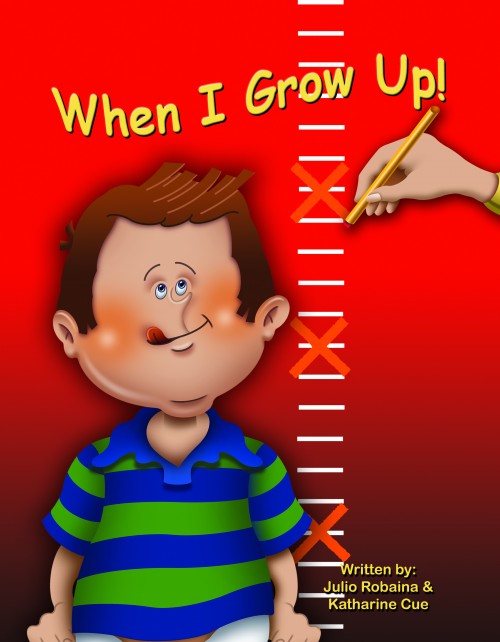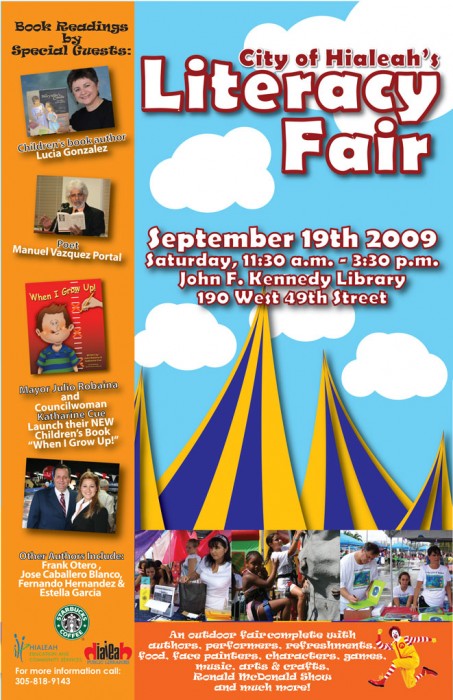 Come and Join us for The City of Hialeah's annual Literacy Fair. Bring the family for an afternoon of fun Saturday Sept 19th 11:am-3pm at JFK Library. Enjoy exhibit booths, live entertainment, bounce houses, readings by international authors and a special presentations by Mayor Robaina and Councilwoman Cue, who will launch their new children's book "When I Grow Up". They will read to a special group of library students and sign copies of their new release at 11:30 am in the Children's Corner.
Hialeah Mayor Julio Robaina and Councilwoman Katharine Cue are very excited to present the launch of their very own children's book, "When I Grow Up" The book for elementary school kids, encourages children to become positive role models, promotes community involvement and caring about our planet and others. The City of Hialeah Literacy Fair and a special group of young invited guest will be the back drop to the event that will host a book reading and signing by the authors of the new release. Mayor Robaina and Councilwoman Cue will be joined by other well known authors such as poet Manuel Vazquez Portal and childrens author Lucia Gonzalez.
Mayor Robaina and Councilwoman Cue were heart set on keeping the book in Hialeah and supporting local businesses, so they choose AC Graphics and Dobbs and Brodeur both Hialeah companies and supporters of their Green Initiatives. "With the combined efforts of these two companies we were able to meet our goal of making the book with as many green initiatives as possible", stated Mayor Robaina.
The book was completely made with paper from sustainable well managed forest, printed with vegetable inks and both the front and back cover are from recycled particle board and bound with water soluble glue. .
AC Graphics is a certified green partner and encouraged the green initiatives that are now used in all the city of Hialeah departments. Dobbs and Brodeur Bookbinders is one of the last hard cover bookbinders in South Florida and a staple of Hialeah for 60 years. At age 19, the present owner Luis Lloret, held his first part time job there and in 1985 at age 45 became the owner. The company has helped put all seven of Luis's children through school. The family establishment was the place where the kids would come and do odd jobs after school. Now the second generation of Lloret's will be taking over the family business. Anthony, Jorge and Edward Lloret are presently running the daily operations as dad looks on.
Mayor Robaina and Councilwoman Cue know the challenges that our local schools are currently faced with and have pledged to help however they can. They embarked on this crusade a year ago, as part of the Mayor's Educational Initiatives and decided that all proceeds from the sale of the book would go to support this cause that help students in the City of Hialeah.
When – Saturday September 19, 2009 at 11:00 a.m.
Where – John F Kennedy Library 190 West 49 Street.
For more information, please contact the City of Hialeah Communications & Special Events Department at 305-889-5701.