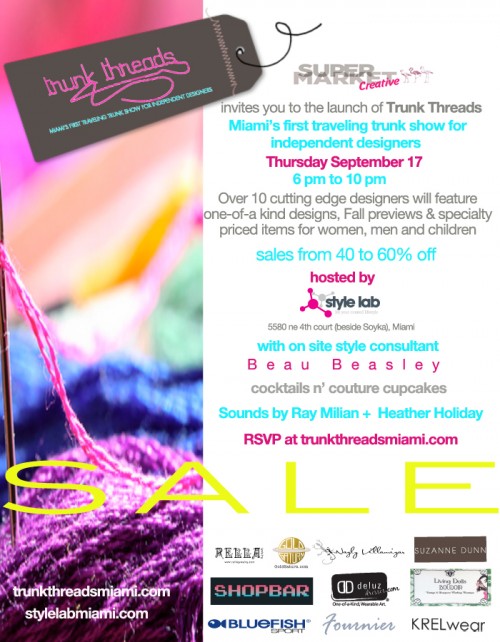 MIAMI'S FIRST TRAVELING TRUNK SHOW – FASHIONISTA'S + SHOPPERS UNITE!
Supermarket Creative starts the first local traveling trunk show for Miami's cutting edge independent designers
WHERE: Style Lab Shoppe
5555 Ne 4th Court
Miami, Fl 33137
954.357.9981
www.stylelabmiami.com
WHEN: Thursday, September 17, 2009
6:00 PM. – 10:00 PM
WHO: Supermarket Creative will debut its newest endeavor with the launch of Trunk Threads. Miami's first traveling trunk show. Trunk Threads will feature over 10 designers at a time. This shopping experience will gives "Recessionistas" the chance to buy cutting edge designs at a fraction of the price from more then handful of Miami's independent designers. Items such as T-shirts to jewelry to vintage couture, reconstructed vintage, chic fitness wear, children's wear and leather and eco handbags and accessories.
WHAT: Producer, Michelle Leshem and Style Liaison, Beau Beasley invite guests and shoppers to enjoy a selection of clothing and accessories by women, men and children designers. Every month, Supermarket Creative will pick a new spot to hold the "traveling pop up store". From Miami's favorite retail boutiques, Style Lab to The Awarehouse, a mixed use space in Wynwood to South Beach's chic hotel The Gansevoort. Trunk Threads promises to host events at cool spots around town the 3rd Thursday of every month.
Trunk Threads will boast an offering of exposing guests to hip new spots around town, sample sale items, season previews and specialty priced items from 40-60% off. Guests will enjoy cocktails and fashion inspired cupcakes. To set the stage, the shopping event will be hosted by Style Lab in Miami's Upper East Side neighborhood. Designers, include: Gold Saturn, Suzanne Dunn, Rella, Fournier, Nazly Villamizar, BluFish Sport , Deluz Dresses, Shop Bar and more! Sounds by Heather Holiday of Pumps + Ray Milian from 6:00 p.m. – 10:00 p.m.
A creative marketing, events and branding firm, Supermarket is known to produce experiential events for those seeking a modern lifestyle. With an avid focus on fashion, music, art and design, we love to provide a platform for designers to expose their brands while reaching an array of guests and Always Fresh events.