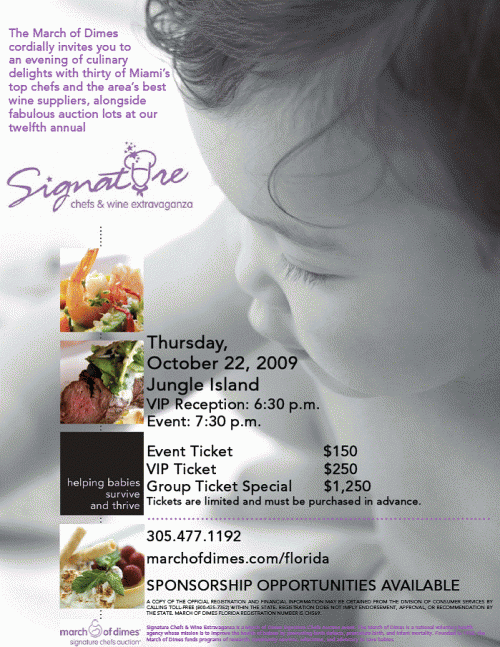 The March of Dimes cordially invites you to an evening of culinary delights with thirty of Miami's top chefs and the area's best wine suppliers, alongside fabulous auction lots at our twelfth annual
Signature Chefs & Wine Extravaganza
Thursday, October 22, 2009
Jungle Island
VIP Reception: 6:30 p.m.
Event: 7:30 p.m.
Event Ticket $150
VIP Ticket $250
Group Ticket Special $1,250
Tickets are limited and must be purchased in advance.
305.477.1192
marchofdimes.com/florida
Signature Chefs & Wine Extravaganza is a March of Dimes Signature Chefs Auction event. The March of Dimes is a national voluntary health agency whose mission is to improve the health of babies by preventing birth defects, premature birth, and infant mortality. Founded in 1938, the March of Dimes funds programs of research, community services, education, and advocacy to save babies.