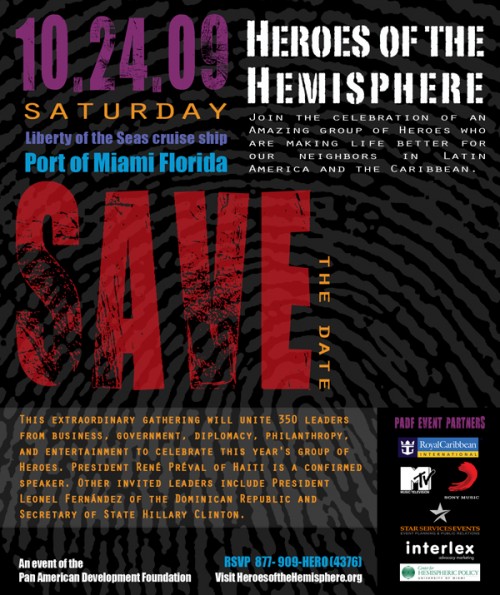 SAVE THE DATE AND JOIN US ON OCTOBER SATURDAY 24TH 2009
WWW.HEROESOFTHEHEMISPHERE.ORG
To celebrate these remarkable individuals, PADF has created a marquee event called Heroes of the Hemisphere, which will be held on Saturday, October 24, in Miami.
President Rene Preval of Haiti has confirmed his participation at the October 24 event. President Leonel Fernandez of the Dominican Republic and U.S. Secretary of State Hillary Clinton are invited speakers.
Confirmed celebrities include Jimmy Jean-Louis of NBC's hit series Heroes and Ron Duprat, a nationally recognized chef and contestant on Bravo's latest season of Top Chef. Neida Sandoval, the anchor on Univision's nationally televised morning program, Despierta America, has been invited to be the Master of Ceremonies.
Despierta America Anchor Neida Sandoval is the invited Master of Ceremonies.
Royal Caribbean Cruise Ltd. (RCCL) is hosting this fabulous event on behalf of PADF to honor this year's group of Heroes of the Hemisphere.
PADF's extraordinary gathering on the Liberty of the Seas will bring together 350 leaders from business, government, diplomacy, philanthropy, and entertainment.
Be a part of the A-List that will celebrate this year's group of Heroes, enjoy live performances, and to Make Your Mark on Humanity.
Purchase your tickets right now online through this website or call our toll-free number 24 hours a day, seven days a week. (877) 909-HERO (4376).
Donations will be used for proven, sustainable programs and their beneficiaries in Haiti. Please join us.