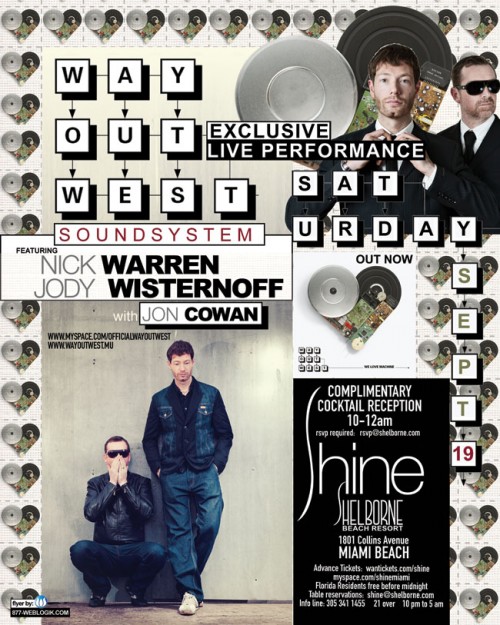 Way Out West Live featuring Nick Warren, Jodi Wisternoff with Jonathan Cowan
Club SHINE opens Saturday night September 19th with WAY OUT WEST SOUNDSYSTEM featuring DJ's Nick Warren and Jody Wisternoff. The two unique internationally acclaimed DJ's have collaborated under the banner of Way Out West for special projects every few years. 2009 their "We Love Machine" project releases and the tour which launched in Europe this summer is now in the United States for a few dates. Both Nick Warren and Jody Wisternoff's solo careers and tours continue to grow and span 20 countries. With albums, and labels under their belts, it's great to see them with a new Way Out West Project.
Shine's Jon Cowan, joins the group for an unstoppable evening. Cowan has just come back from a small European tour including Ibiza (Pacha) playing with Sander Kleinenberg.
This rare Miami performance of Nick, Jody and Jon is exciting and will prove to be a great night to remember.
Saturday September 19, 2009
Complimentary Cocktail Reception 10:00 – 12:00 RSVP required rsvp@shelborne.com
Florida Residents Free before midnight with Florida ID
Advance Tickets: Wantickets.com/shine
Table Reservations: Shine@shelborne.com
Info line: 305 341 1455
21 and over
Shine @ The Shelborne 1801 Collins Ave (18th street)