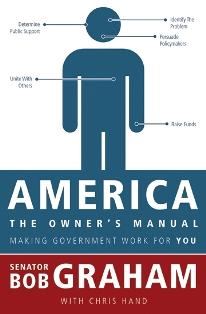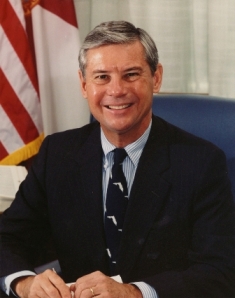 SPECIAL EVENT
Friday, August 28, 7pm
TALK AND BOOK SIGNING BY SENATOR BOB GRAHAM—Senator Bob Graham will discuss his new book, America: The Owner's Manual, an insider's guide to making the political system work for you. Designed with students in mind, this how-to book can be used by all to make politics a hands on activity, rather than the spectator sport it usually is. The Owner's Manual is available in soft cover for $16.95 in The Dynamo Museum Shop or by contacting paola@thewolf.fiu.edu.
Senator Graham retired from public office in early 2005, spent the 2005–2006 academic year at Harvard University's Kennedy School of Government as a senior fellow, and is currently focusing his efforts on the "Bob Graham Center for Public Service at the University of Florida," which trains the next generation of public leaders to solve public policy challenges facing Florida, the nation, and the Americas. Senator Graham currently serves as the Chairman for the Commission on the Prevention of Weapons of Mass Destruction Proliferation and Terrorism and was recently appointed to serve on the Financial Crisis Inquiry Commission. RSVP required: 305.535.2644 or lydia@thewolf.fiu.edu. Free reception follows.
DON'T FORGET…FREE GALLERY ADMISSION ON FRIDAYS FROM 6-9PM
Free admission begins at 6pm. Join us for a guided tour at 6pm and innovative programming at 7pm. Galleries remain open until 9pm.
1001 WASHINGTON AVENUE
MIAMI BEACH, FLORIDA 33139
T 305.531.1001 F 305.531.2133
wolfsonian.org