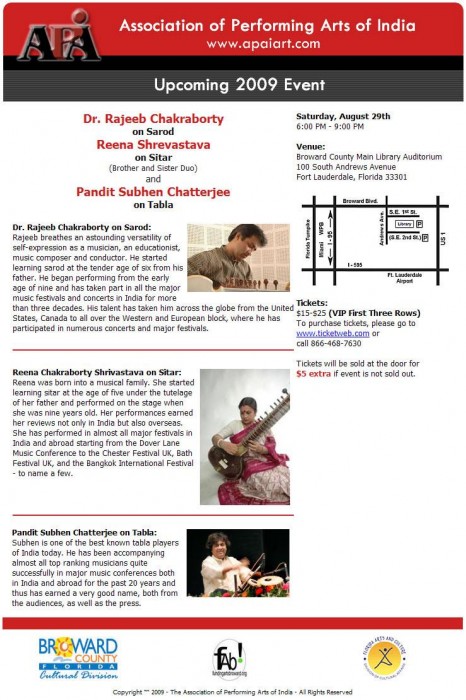 This message is forwarded to you on behalf of the Association for the Performing Arts of India:
APAI is presenting a tribute to Indian sarod master Ali Akbar Khan next Saturday at the Fort Lauderdale Main Library, featuring Dr. Rajeeb Chakraborty (sarod), Reena Shrevastava (sitar) and Pandit Subhen Chatterjee (tabla).
Tickets are $15 and $25 through ticketweb.com or call 866-468-7630
Sitar,Sarod and Tabla Concert and Dinner with the Artist after the concert featuring Dr.Rajeeb Chakraborty on Sarod,Reena Shrevastava on Sitar,Subhen Chatterjee on Tabla
Saturday, Aug 29, 2009 5:30 PM EDT (5:30 PM Doors)
– Saturday, Aug 29, 2009 9:00 PM EDT
at Broward Main Library Theatre
in Fort Lauderdale, FL
Dr. Rajeeb Chakraborty:: breathes an astounding versatility of self-expression as a musician, an educationist, music composer and conductor. Rajeeb started learning Sarod at he tender age of six from his father.He began performing from the early age of 9 years and has taken part in all the major music festivals and concerts in India for more than three decades. His talent has been taking him across the globe from United States, Canada to all over the western European block where he has participated in innumerous concerts and major festivals. Reena Chakraborty Shrivastava On Sitar: Reena C. Shrivastava was born in a musical family. She started sitar at the age of five under the tutelage of her father. Reena performed on the stage at the age of 9.Her performances earned her reviews not only in India but also abroad. Her extensive tours have earned fame and recognition in India, Europe, U.S.A. and Canada. Subhen Chatterjee is one of the best known tabla players of India today. Subhen has been accompanying almost all top ranking musicians quite successfully in major music conferences both in India and abroad for the past 20 years and thus has earned a very good name both from the audiences as well as the press.