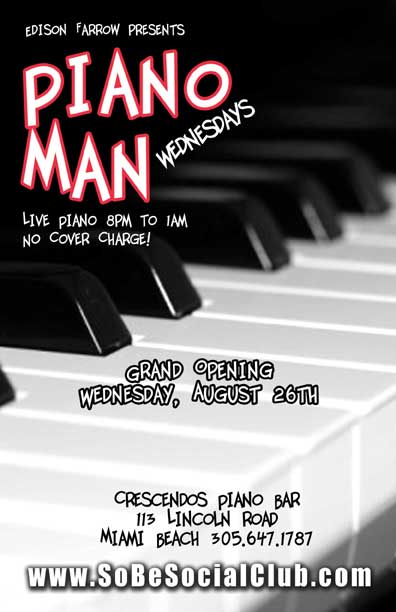 Piano Man Wednesdays
"Finally, a piano bar in South Beach!"
GRAND OPENING
Wednesday, August 26th
Piano Man Wednesdays Please join us for the Grand Opening of a new weekly piano bar night on Wednesday, August 26th. The best piano player/singers from all over the country will be flown in to entertain you on a weekly basis.
This beautiful, new piano bar and lounge just opened at the east end of Lincoln Road and is located in the Di Lido Building at the Ritz Carlton (between Collins Avenue and the ocean path).
The piano is built into the stunning granite bar. And, there are tambourines for those who feel the need to jam along with the piano.
The weekly guest artists perform from 8pm to 1am.
There is no cover charge.
Crescendos Piano Bar
113 Lincoln Road
Miami Beach
305.674.1787
www.crescendos.org
This Week's Guest: Barry Rocklin
Barry Rocklin has been a mainstay on the international piano bar circuit for most of the past decade—between stints as musical director for renown musical productions from Miami to Montreal. Barry has journeyed from his home in suburban Boston to piano engagements at some of the world's finest piano bars and hotel lounges, including venues in Germany, Norway, Sweden, Switzerland, Canada, Japan, Iceland and Poland. And he is a favorite on board the Royal Caribbean Cruise Line.
Barry is a brilliant pianist with a strong voice, boundless enthusiasm and a performance flair uniquely his own. His love for music is obvious and infectious. With a memorized repertoire of more than 2,500 songs, Barry puts on a show guaranteed to surprise, energize and entertain audiences everywhere.