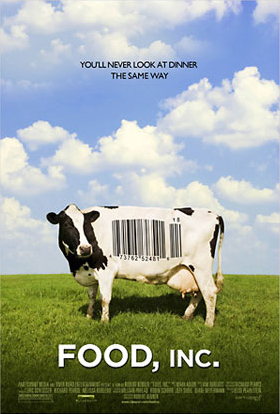 21 FRI, 22 SAT, 23 SUN 7pm:
An MBC Premiere HD DIGITAL Presentation!
In collaboration with Emerging Pictures
Miami Theatrical HD Premiere!
"Cinema GREEN"
A NEW environmental film series in collaboration with: ECOMB The Environmental Coalition of Miami & the Beaches
FOOD, Inc.
(A documentary film by Robert Kenner/USA/2009/94 min.)
In Food, Inc., filmmaker Robert Kenner lifts the veil on our nation's food industry, exposing the highly mechanized underbelly that has been hidden from the American consumer with the consent of our government's regulatory agencies, USDA and FDA. Our nation's food supply is now controlled by a handful of corporations that often put profit ahead of consumer health, the livelihood of the American farmer, the safety of workers and our own environment. We have bigger-breasted chickens, the perfect pork chop, herbicide-resistant soybean seeds, even tomatoes that won't go bad, but we also have new strains of E. coli—the harmful bacteria that causes illness for an estimated 73,000 Americans annually. We are riddled with widespread obesity, particularly among children, and an epidemic level of diabetes among adults.
The film on Friday will be followed by a Q&A with an organic farmer Gabriele Marewski from Paradise Farms Organic.
The film on Saturday will be followed by a Q&A with Chef Jeff Mcinnis from De Lido Beach Club at the Ritz Carlton.
For tickets click HERE
Thank you for using Soul Of Miami!