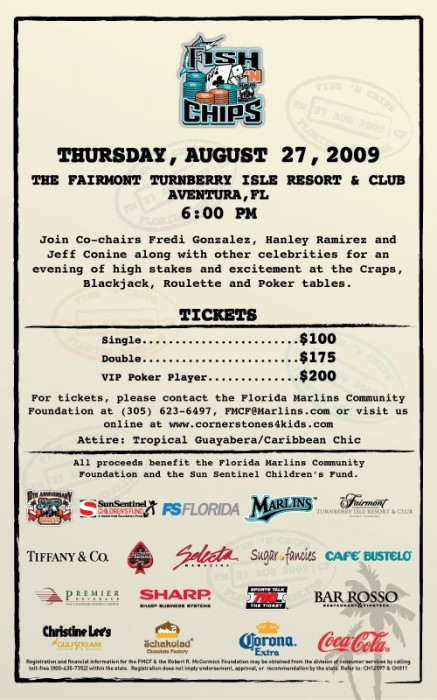 THE FLORIDA MARLINS COMMUNITY FOUNDATION & EVENT CO-CHAIRS FREDI GONZALEZ, HANLEY RAMIREZ AND JEFF CONINE
CORDIALLY INVITE YOU TO THE 3RD ANNUAL FISH 'N CHIPS CASINO PARTY
The Florida Marlins Community Foundation (FMCF) will host the 3rd annual Fish 'N Chips Casino Party presented by Fox Sports Florida Thursday, August 27 at The Fairmont Turnberry Isle Resort & Club at 6:00 pm. All proceeds from this signature event will benefit the Florida Marlins Community Foundation's Cornerstones for Kids programs and the Sun Sentinel Children's Fund. Guests are welcome to join event Co-chairs Fredi Gonzalez, Hanley Ramirez and Jeff Conine along with coaches, players and an elite group of community leaders, celebrities and socialites for an evening of fun and stakes at the Craps, Blackjack, Roulette and Poker tables. The evening will feature an array of hors d'oeuvres from South Florida's finest restaurants, cocktails, music and a silent auction filled with exciting items. A ticket of $100 Admits One, a $175 ticket admits Two and $200 admits a VIP Poker Player (one guest) with a seat in the poker tournament. Reservations are available online at www.marlins.com/fishnchips or for ticket information call (305) 623-6497 or email fmcf@marlins.com. All guests must be at least 18 years old to participate.
Guests can also stay at The Fairmont Turnberry Isle Resort & Club for a promotional rate of $99.00 valid from 8/25-8/30 with promo code PFNC. To make reservations, please visit www.fairmont.com or call the Global Reservation Centre at 1(800) 257-7544.
Florida Marlins Community Foundation
www.cornerstonesforkids.com
Donate Now!
FISH N' CHIPS – AUGUST 27 Sign Up Today!