{Musical Missionary is a good friend of Soul Of Miami. Highly Recommended.}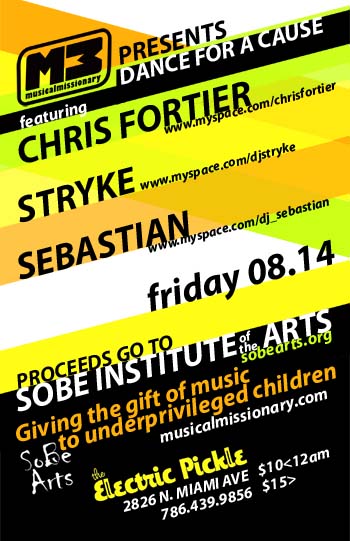 Musical Missionary proudly presents DANCE FOR A CAUSE
… to appreciate and benefit the SoBe Institute of the Arts
… and bring the gift of music to underprivileged children
featuring…
CHRIS FORTIER
STRYKE
SEBASTIAN
Friday, August 14, 2009 at 11:00pm
The Electric Pickle
2826 N. Miami Ave.
Miami, FL
This is it… Musical Missionary is very excited to host its first fundraising event on Friday, August 14th, at The Electric Pickle. Proceeds from the event will go towards scholarships at the SoBe Arts Institute. Giving the gift of music to underprivileged children is a cause that perfectly aligns with MM's mission, so I hope to see many of you there to Dance For A Cause!
Another fitting feature of this party is the talent lineup. Few names are tied to electronic dance music's past, present, and future like Chris Fortier. Honing his skills over the last two decades with highlights such as a Balance Series compilation and founding credits for the Balance Record Pool, Fortier has always been on the leading edge of dance music. Musical Missionary is extremely proud to call Chris family and to have him be a part of this special event.
But this is not your typical one-headliner party. Stryke and Sebastian are local dance music masters who remind me of how lucky I am to live in Miami. Stryke spends most of his time on the road so having him join this party is an extra special treat. And Sebastian… he's been a Musical Missionary favorite since MM started throwing parties, so this lineup couldn't be more fitting for this occasion.