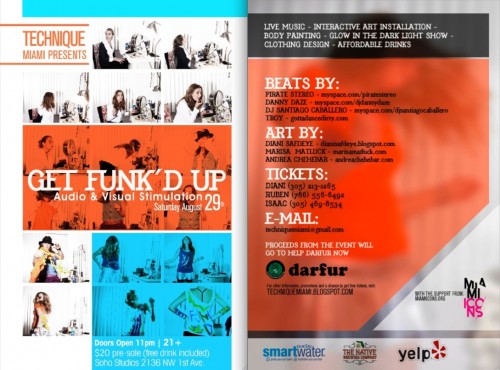 Technique is a group that partners with up-and-coming musicians, artists and young entrepreneurs, to offer an alternative and organic nightlife experience.
Combining live music, interactive art installations, on-site clothing designs, body painting, and an elaborate glow-in-the-dark light show, Technique Miami, our inaugural event in South Florida, will offer an unforgettable night of endless visual and audio stimulation.
We are proud to announce that Technique Miami has teamed up with "MIAMI HELP DARFUR NOW". Not only will this event showcase up-and-coming talent, but will also provide an opportunity to donate to a much need cause. Please visit WWW.HELPDARFURNOW.ORG for more details on the organization….
Details for the event are as follows:
August 29, 2009
NEW LOCATION
Soho Studios located at 2136 NW 1st Ave