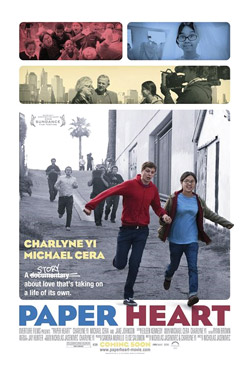 Gen Art invites you to a special advance screening and party for Paper Heart
Directed By: Nick Jasenovec
Starring: Charlyne Yi, Michael Cera & Jake Johnson
Thursday, August 13 , 8:00 PM
Regal South Beach
1120 Lincoln Road
Miami Beach, FL
After-Party: Catalina Hotel & Beach Club
10:00-Midnight
1732 Collins Avenue
Miami Beach, FL. 33139
www.catalinasouthbeach.com
** Featuring a live performance from one of Miami's favorite bands, ArtOfficial!
The Gen Art Screening Series presents advance screenings for "PAPER HEART" written and directed by Nick Jasenovec and starring Michael Cera and Charlyne Yi, with special appearance by Seth Rogen and others.
Click here for more information about the movie.
RSVP Now.