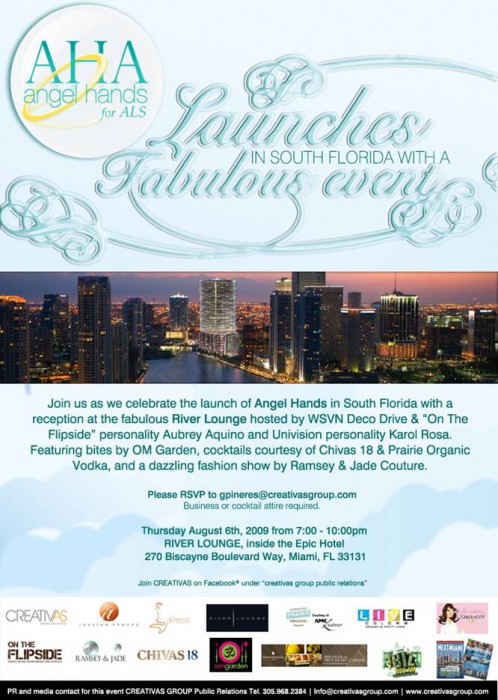 ANGEL HANDS FOR ALS LAUNCHES IN SOUTH FLORIDA WITH FABULOUS EVENT AT RIVER LOUNGE
Please log onto: http://www.angelhandsforals.org for more information. RSVP AND CONFIRMATION REQUIRED TO ATTEND.
Angel Hands for ALS, a nonprofit foundation started in July 2007 in the state of North Carolina as a limited liability corporation is launching a South Florida Chapter now as Non Profit Foundation with Public Charity Status. The launch will take place with bites by Om Garden and a Chivas and Prairie Vodka cocktail reception on August 6th 2009 from 7-10pm. The event will take place at River Lounge located at 270 Biscayne Boulevard Way, Miami, FL 33131, inside the Epic Hotel.
Spearheaded by Donald Koenig, a Veteran of the US Navy and Carmen Morales-Koenig, (his wife & his care giver) the duo has used their private funds to service and assist other patients with ALS and their families with medical equipment and support. During the last two years they have traveled in their "DonKMobile" to several cities and states through the East Coast sharing a word of faith and describing the benefits of life after a ventilator. The couple has traveled the map trying to educate and mentor. Morales, a registered nurse by profession, is active in various national organizations for the disease to include ALS TDI Foundation and National ALS association.
Koenig and Morales have been invited to symposiums, gatherings and social functions to speak and share their testimony. They have attended and also spoken at several PALS (Patients with ALS) associations in different cities across US, the last being in Melbourne, Florida April 2009. At said event, they spoke to six other patients and their families. All showing great interest in attending the "Angels Hands for ALS Boot Camps," to further learn how to care of their family members and provide them a better quality of life.
Within a short time this amazing, passionate twosome has created such a positive impact in the ALS Community that on April 20th 2009, they decided to commence a national launch. They chose Miami as the launch pad, deeming it such a dynamic and incredible market. Once the choice was made, they carefully enlisted Esperanza Franky, a local active professional in the South Florida to be the Legal Representative of the national 501©3 nonprofit, "Angel Hands for ALS, Foundation Inc." With a main focus to help many more PALS and their families, the foundation will aid many with the help of Governments Grants and Private Fundraising.
Franky, has close to a decade of experience in the finance/banking industry and has made several TV appearances working with other non profits such as Organización C.A.S.A., leading their "Projecto Vivienda." Now, as CEO of Angel Hands, she will collaborate with many of her longtime contacts to help the cause. When asked about her mission with the organization she simply states: "I have very high goals and high-hopes for [this] Foundation. In unison we will endeavor to help as many low-income patients who suffer from ALS; by teaching and training their care givers an efficient way to take care of them & for patients of ALS to feel an active part of their families and of society."
Hosted by WSVN Deco Drive reporter and "On the Flip Side" host Aubrey Aquino, Univision's Karol Rosa, the launch event for Angel Hands for ALS with feature a cocktail reception, giveaways, and promotional partners to include: Om Garden, Chivas Regal, Next Miami Magazine, Miami Empresarial Magazine, InterContinental Miami, IT Design, Cakes in the City, Prairie Vodka (courtesy of AMC Liaisons), Camelot Salon & Spa, Ramsey & Jade Couture, Live Colors Media, The Homestead Miami Speedway, and 880TheBiz. At the reception, guests will have the opportunity to support the cause by making donations (via check or credit cards).
Present at the event will be Ashok Verma, M.D., D.M. Professor, Medical Director, Kessenich Family MDA-ALS Center and MDA Clinics, Attending Neurologist and Neuro-HIV Clinic Director, Jackson Memorial Hospital.
ANGEL HANDS FOR ALS MISSION STATEMENT:
Angel Hands for ALS strives to promote awareness and provide education on how to improve the quality of life for patients suffering Amyotrophic Lateral Sclerosis.
ABOUT ALS
Amyotrophic lateral sclerosis (ALS), often referred to as "Lou Gehrig's Disease," is a progressive neurodegenerative disease that affects nerve cells in the brain and the spinal cord. Motor neurons reach from the brain to the spinal cord and from the spinal cord to the muscles throughout the body. The progressive degeneration of the motor neurons in ALS eventually leads to their death. When the motor neurons die, the ability of the brain to initiate and control muscle movement is lost. With voluntary muscle action progressively affected, patients in the later stages of the disease may become totally paralyzed.
A-amyotrophic-tropic comes from the Greek language. "A" means no or negative. "Myo" refers to muscle, and "Trophic" means nourishment–"No muscle nourishment." When a muscle has no nourishment, it "atrophies" or wastes away. "Lateral" identifies the areas in a person's spinal cord where portions of the nerve cells that signal and control the muscles are located. As this area degenerates, it leads to scarring or hardening ("sclerosis") in the region.
As motor neurons degenerate, they can no longer send impulses to the muscle fibbers that normally result in muscle movement. Early symptoms of ALS often include increasing muscle weakness, especially involving the arms and legs, speech, swallowing or breathing. When muscles no longer receive the messages from the motor neurons that they require to function, the muscles begin to atrophy (become smaller). Limbs begin to look "thinner" as muscle tissue atrophies.
For additional information on Angel Hands for ALS, please contact: Creativas Group (305) 968-2384 and via email at: info@creativasgroup.com for media coverage, and interviews. Angel Hands for ALS can be "followed" on Face Book. Please log onto:
http://www.angelhandsforals.org for more information. RSVP AND CONFIRMATION REQUIRED TO ATTEND.