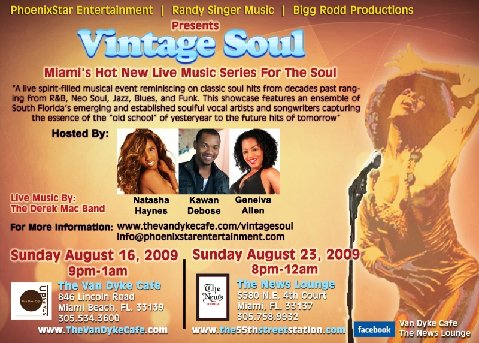 Hot New Vintage Soul Series Opens At The Van Dyke Cafe August 16 and At The News Lounge August 23rd Puts Artists Back to Work
The upstairs lounge in The Van Dyke Café is very unassuming. In fact, if it wasn't for the video stream downstairs, you might not even know about the mystical experiences happening right above the common area. But for those "in the know", it's the ultimate in true raw traditional musical talent where artists unleash and audiences get a glimpse of an exclusive rare treat of talent available for the taking.
Upstairs at The Van Dyke Café on South Beach, a new series called "Vintage Soul", co-produced by harmonica player, Randy Singer, keeps the music scene rocking and rolling with an exceptional grouping of local artists banning together to create and play music to a captive and appreciative audience. The interactive series features live music ranging from R&B and neo soul to jazz, blues, reggae, funk and gospel, spanning four generations of music including classics from Stevie Wonder, Marvin Gaye, Aretha Franklin, James Brown, Bob Marley, Chaka Khan, Sade, Alicia Keys, among many others. Due to the initial success and unprecedented response of the special performance held earlier this month, The Van Dyke Café located at 846 Lincoln Road in Miami Beach, rated the "Best Jazz Club" by Miami New Times, will host the series on a regular basis once a month until December, beginning Sunday, August 16, 9pm-1am. Sister café The News Lounge located on 5580 NE 4th Court in The Courtyard at 55th Street Station in Miami will also host the series starting August 23. As a new age outdoor garden lounge this setting acts as the perfect backdrop to the new series.
Co-producer of Vintage Soul, Natasha Haynes of PhoenixStar Entertainment comments on the purpose of the series and the state of the music industry today. She says, "The Vintage Soul series was created not only to pay tribute to classic soul music of yesterday and today, but to also give undiscovered artists and talented vocalists a moment in the spotlight. Major record labels have cut back on promoting new artists and traditional ways of promotion are simply not available anymore. Those with true talent have to self-promote and use whatever tools they have available to reach the audience that values their quality. So whether they are singing a classic soul cover song or one of their original songs, Vintage Soul, gives artists a platform of exposure so that they can market themselves and showcase their talent."
Haynes enjoys working with singer, songwriter, and musician Randy Singer who, she says, helps find work for musicians. "Randy makes sure artists are seen and appreciated. He provides bookings, enthusiasm, and the tools they need to continue their work in an atmosphere that induces creativity and cohesiveness." Singer is based in Miami and books talent all over the tri county area in addition to booking all the nightly entertainment at The Van Dyke Café and The News Lounge through his company Randy Singer Music. He himself has played all over the world with such greats as Franco da Vita, Toots Thielemans, Caetano Veloso, Juan Luis Guerra, Timbaland and Julio Iglesias in such places as Brazil, Paraguay, Uruguay, Paris, Czech Republic, Venezuela, Puerto Rico, Germany, Amsterdam, Mexico, New York, and Nashville.
With music by The Derek Mac Band backing some of South Florida's local artists, this series is already a hit and the best kept secret. With limited space and no cover, it's best to get there early. For more information or if you're interested in playing for the series, email phoenixstarmusic@aol.com with your photos, web-links, mp3 files and whatever else you think earns you some stage time or visit http://www.thevandykecafe.com/vintagesoul.