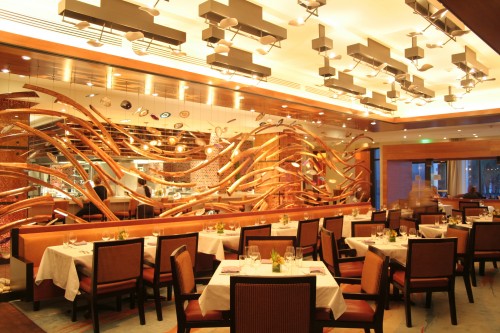 As part of Canyon Ranch Grill's monthly prix-fixe menu series, the August menu emphasizes fresh ingredients as well as locally and sustainably grown and farmed foods. Giving locals and residents access to world-class cuisine that helps address relevant health concerns, the $36/person menu features dishes with balanced amounts of calories, carbohydrates, protein, fat and fiber, creating the perfect combination of flavor and nutrition. Guests can choose from dishes such as Florida grouper, sustainably caught Chilean sea bass and tall grass beef short ribs.
* Local Mangoes – dressed with key lime juice, Maldon salt and tangerine micro greens
Entrée Choices:
* Florida Grouper – duck prosciutto-wrapped grouper, hearth-fired with corn truffle and roasted vegetable salsa
* Sustainably Caught Chilean Sea Bass – spicy fresh pineapple broth and cool key lime cucumber (Marine Stewardship Council-certified catch)
* Tall Grass Beef Short Ribs – braised in our signature Mongolian BBQ sauce, with grilled baby bok choy and white sweet potato
Dessert:
* Strawberry Shortcake – buttermilk biscuit, fresh strawberries and whipped cream*The 3-course menu is $36/person (subject to tax and gratuity) and does not include beverages. Canyon Ranch Grill is located at Canyon Ranch Miami Beach [6801 Collins Avenue] and complimentary parking is available for diners. The restaurant is open seven days a week, serving breakfast 7 AM – 10 AM, lunch 11:30 AM – 2 PM, and dinner 6 PM – 11 PM. For reservations please call 305-514-7474.