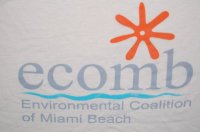 Solymar Restaurant – One Miami Building
315 South Biscayne Boulevard
Miami, FL
A brand new restaurant in Downtown, SOLYMAR, invites ECOMB and friends to dine before the restaurant officially opens.
Friday and Saturday, lunch and dinner service will be open only for our special guests. For only $10, you will enjoy a full-course meal, and donate to your local environment at the same time!
Solymar is a relaxed urban fine dining restaurant, and a culinary adventure combining the finest seasonal and local ingredients found under the sun and beneath the sea.
Come and enjoy a meal of Chef Keith Maloney's selections from our Caribbean and Latin inspired menu.
COMPLIMENTARY pours of WINE!!
Your $10 donation goes to ECOMB – The Environmental Coalition of Miami and the Beaches. Our organization is dedicated to educating Miami-Dade County's residents and visitors to adopt responsible environmental behaviors and to raising their awareness to our surrounding ecosystems.
Everyone is welcome, but reservations are required!!
call Maura at 215-431-3030
or email maura.reilly22@gmail.com
or rikabird@bellsouth.net
Friday lunch 12-1
dinner 6-7
Saturday lunch 12-1
Thank you for using Soul Of Miami!