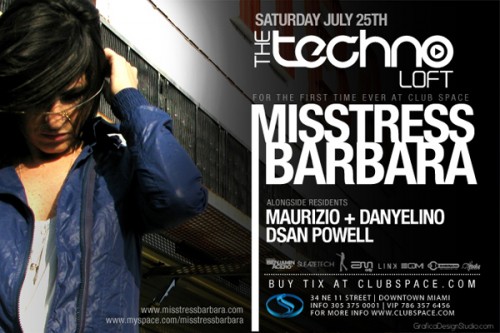 Continuing their dedication to cutting-edge sounds, the Techno Loft crew at Space Miami brings another femme fatale of the techno and house scene to the decks this Saturday, July 25th, the legendary Misstress Barbara.
Sicilian-born Misstress (yes, there's four "s" in there…) Barbara, having emigrated to Montréal at an early age, appropriately started her music career as a drummer at the age of 12. Soon after, trading in her sticks for a pair of 1200s and a mixer, she carried her affinity for percussive sounds over into her DJing, delivering a rhythmic, relentless, and uncompromising style in her sets and in her productions. With hits like "I'm Running", and "Dance Me To…" tearing up the global dance charts and finding their way into the laptops and CD cases of fellow DJs and producers around the world, Barbara, long an underground favorite, is breaking through into the mainstream of dance culture.
With her appearance this weekend at the home of dance music in the United States, Space, the sky's the limit for the Misstress…
Click here to purchase tickets!