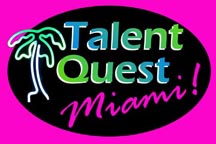 Don't Miss the 1st Annual Talent Quest Miami FINALS!!
Saturday, July 25, 8 pm at Colony Theatre
Presented by the Arts at St. Johns
Miami's newest talent competition, featuring 12 hot finalists – singers, dancers, musicians, rappers, comedians, one cirque act, & a contortionist! The contestants hail from Cutler Bay to Miami Lakes, from Miami Beach to Hialeah.
OUR CELEBRITY JUDGES
Diva Elaine Lancaster, Concert producer Roger Abramson and MiamiArtZine Editor Mary Damiano
YOU can help with the judging! Join the audience & our celebrity judges in picking the best talent & deciding who wins the $500 grand prize and other great prizes!
Plus, a special performance by Elaine Lancaster
Actor/Director Tom Colucci Talent Quest Moderator/Host
ASJ's Artistic Director David Kingery created & directed Talent Quest Miami
FINALS: Sat., July 25, 8pm – COLONY THEATER – $20 Tix
1040 Lincoln Road on South Beach
Join us for the AfterParty at Lucky Strike Lanes
1691 Michigan, South Beach
Buy $20 Tickets Online for the Finals www.artsatstjohns.com
(tickets also available at the Colony box office or online at ticketmaster.com)
For more info: 786-525-9983
BizBuzzTour.com will be filming during the show. The taped performance of the Finals will be aired online after the show on the BizBuzzTour website on July 30 @ 8:00 p.m. The Finals will remain available on demand for future viewing.
Niso Corp (Controller on Demand) is the official ballot counter for the Final Judging at the Colony Theater in South Beach.
MISSION: To present arts and culture programming that builds community, encourages dialogue about social issues, & provides transformation through the arts. Socially Responsible Arts!
BOARD OF DIRECTORS
BOARD PRESIDENT: Julie Weaver, D.O, Writer
VICE PRESIDENT: Bernie Mickley, retired, Vietnam Vet
SECRETARY/TREASURER: Sylvia Ospina, Lawyer, Realtor
BOARD MEMBERS:
Rev. Melissa Pisco, Pastor, St. John's United Methodist Church
Carol Haefner, President, Avery Glass & Mirror, North Miami, FL
A.J. Khaw, M.D., UM Pediatric Mobile Clinic, Jazz Musician
Susan Hamilton, Dancer, Pilates instructor
STAFF
FOUNDING DIRECTOR: Dr. Carol Hoffman-Guzman, 305-613-2325 artsatstjohns@bellsouth.net
ARTISTIC DIRECTOR: David Kingery, 786-525-9983 sobesinger@aol.com
LIGHTING, SOUND: Ken Whiting
STAGE MANAGEMENT: Charmille Walters
Sponsors of Arts at St. Johns events
Arts at St. Johns programs are funded through grants from City of Miami Beach, Cultural Affairs Program; Miami-Dade County Department of Cultural Affairs (the Cultural Affairs Council, the Mayor & Miami-Dade County Board of Commissioners); State of Florida Division of Cultural Affairs (National Endowment for the Arts); The Miami Salon Group; Dade Community Foundation; and Miami Beach Chamber of Commerce Pillars.