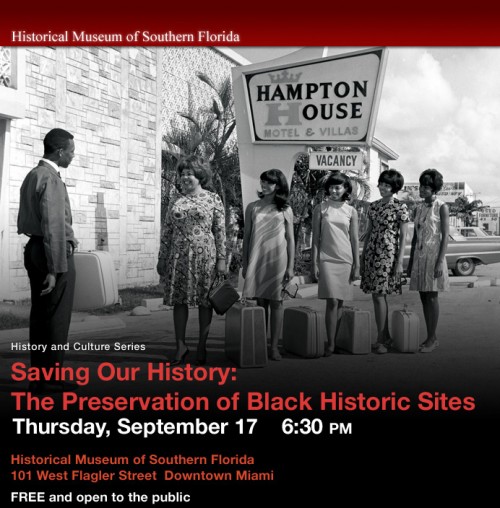 Saving Our History: The Preservation of Black Historic Sites
Thursday, September 17 6:30 PM FREE
Historical Museum of Southern Florida
101 West Flagler Street
Over the past two decades, the number of Black historic sites in Miami undergoing preservation battles and successes has increased significantly. Come hear the leaders of these projects share the unique history of sites such as Virginia Key Beach, the Hampton House and the Black Precinct and their herculean efforts to save these spaces from city bulldozers, neglect and commercial development. For more information, please contact 305.375.1492.
Panelists
Clarence Dickson, former Chief of the Miami Police Department, Black Precinct Museum;
Helen Gage, Preservationist, Bethel House African Bahamian and Museum;
Enid Pinkney Ph.D., Chairwoman, Historic Hampton House Preservation Board;
Dinizulu Gene Tinnie, Vice-Chairman, Virginia Key Beach Park Trust;
Dorothy Jenkins Fields, Ph.D., Historian and Founder, The Black Archives, History and Research Foundation of South Florida, Inc.