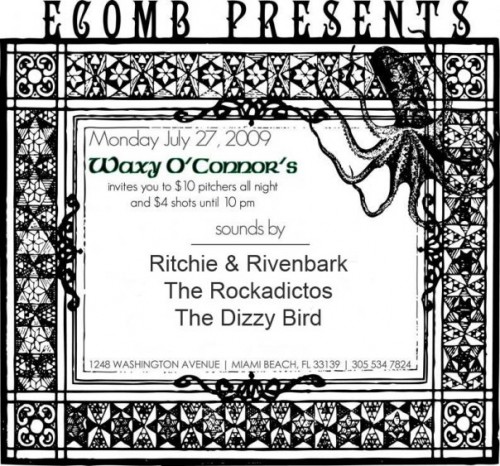 The Environmental Coalition of Miami and the Beaches (ECOMB) started an amazing project called "Raise the Bar." ECOMB is trying to get all the bars in Miami Beach to recycle. A student from UM got a grant from Hands on Miami, and started with four pilot bars already.
ECOMB is fundraising at every one of those bars, and this month is Waxy O'Connor's. The event is on July 27th, from 8pm to 2am. Ritchie & Rivenbark, The Rockadictos and The Dizzy Bird are playing. Proceeds of the bar will benefit Raise the Bar and ECOMB, and help raise awareness to this issue.
A University of Miami medicine student launched a program that is bound to launch Miami way ahead in the global green movement.
"Miami has been very behind in the green revolution, but now it's time to step up to the plate," said Fernanda Medici, one of the program assistants of ECOMB who is also responsible for pushing the project forward.
Raise the Bar (Miami Beach) is an exciting pilot program designed to promote recycling at local bars across Miami Beach. The program started on Earth Day, April 22nd, 2009, and it provided free recycling services to four select bars across the city through June 2009. In a joint collaboration between the Environmental Coalition of Miami Beach (ECOMB) and World Waste Services, Inc., each bar received complimentary recycling bins and pick-up for the duration of the program. A projected 15,000 bottles and cans have already been recycled in the four bars alone.
This is an unprecedented initiative generously funded by Hands On Miami's Starbucks
Youth Philanthropy Committee, but this is only the beginning. Founded by committed volunteer / project coordinator, Neha Patel, and ECOMB Director, Luiz Rodrigues, it is intended that the program will eventually grow to incorporate all bars across Miami Beach. Currently, only a small percentage of bars in Miami Beach recycle, despite that recycling is cost-effective, saves money and is mandated by law. As a bold stride towards greenifying Miami Beach, the following bars have graciously committed to the program: Abraxas Lounge, Purdy Lounge, The Catalina, and Waxy O'Connor's Irish Pub.
The ECOMB volunteers are planning on having a celebratory party at each of the four bars. The intention is to bring awareness to the issue and also raise funds for the organization.