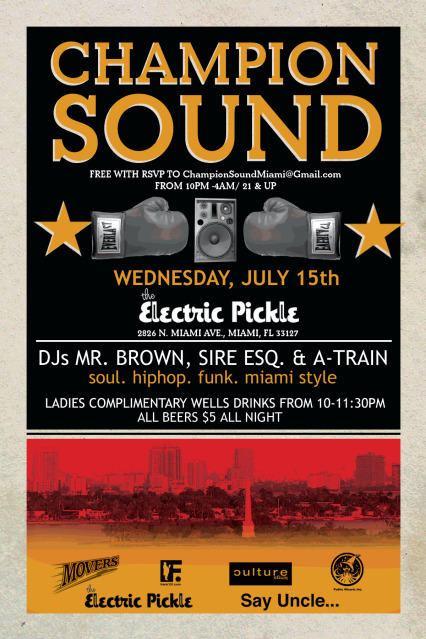 BigUp to all who made it to the Jeremy Ellis Live Session last week, it was out of control!!
Catch some of the pictures, http://bit.ly/13LkNU
Catch some of the video, http://bit.ly/k8giX
And get ready for another one…
Wednesday, July 15th
@ The Electric Pickle
Doors at 10pm
FREE w/ RSVP to: ChampionSoundMiami@gmail.com
CHAMPION SOUND Presents…
-DJS-
✪ Mr. Brown
✇ Sire Esq.
☢ A-Train
Hosted by: Rod Deal
**Check out Pictures from our Recent events courtesy of Chez Mille**
http://web.me.com/chezmille/Che(z)_Mille/My_Albums/Pages/Champion_Sound.html
Located @ The Electric Pickle
2826 N. Miami Ave.
Miami, FL 33127
Drink Specials:
☛FREE COCKTAILS☚ for LADIES till 11:30p
$5 BEERS All-Night
Supported By:
Frank 151: http://www.Frank151.com
Public Wizard: http://www.PublicWizardInc.com
Culture Kings: http://www.CultureKings.com
Say Uncle: http://www.SayUncleInc.com
Champion Sound Web Links:
Facebook: http://www.facebook.com/ChampionSound
Myspace: http://www.myspace.com/TheGrandGroove
Thank you for using Soul Of Miami!