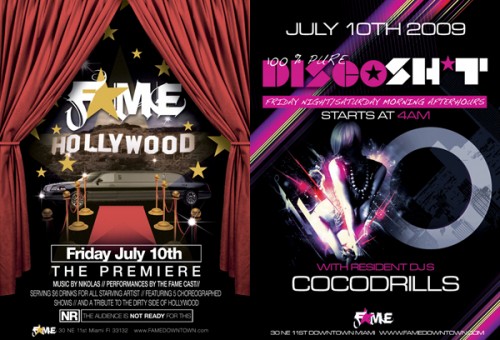 We at FAME would like to thank everyone for showing up to our Sneak Peek this past Friday evening. It was amazing, astounding, enthralling, and of course messy and downright dirty!
And this weekend will be no exception. We've ironed out the kinks and we are ready to rock Downtown this Friday evening. On July 10th, we're proud to present the Premiere of FAME.
As we showed you this past Friday, FAME is not going to be a typical nightclub experience. With live performances by our talented cast of characters (and yes we really mean "characters") worthy of a Hollywood epic, well, if the lovechild of Fellini and Quentin Tarantino got together to make a movie, FAME keeps the audience entertained all night long with said live performances, interactive experiences, and classic drinking games worthy of the cheesiest summer camp knockoff flick. And rounding out the entertainment this evening will be none other than our versatile musical maestro, Nikolas.
The madness doesn't stop early either, as we're proud to present the premiere of Disco Sh*t, the new Saturday morning afterhours experience to hit Downtown Miami.
Starting at 4 AM, FAME gets down to serious business and explores the dark and dirty side of Hollywood, presenting some of the latest twisted house sounds to come out of the studios of talented DJs and producers the world over.
We're proud to launch this new experience with none other than one of Miami's newest DJ/Production duos, the Cocodrills. These youngsters have been tearing up the charts as of late, with a body of work reminiscent of talents much older. Check them out this Saturday morning on the decks at FAME…
RSVP for complimentary admission at rsvp@famedowntown.com or by going to the official FAME website.