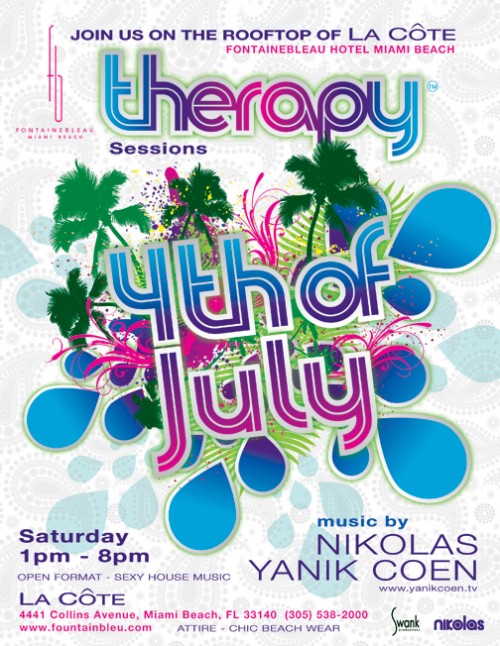 ✸ THERAPY – as the Sun rises to it's brightest point in the sky is when we revel in the gift of life! No matter where you are, there comes a pride to admit that one can always find refuge in THERAPY.
"With 10 years of unity and the promise of longevity through integrity and credibility, you've got to feel it to believe it."
✸ "LIFE IS A STAGE…WHAT PART WILL YOU PLAY?"
Guests can relax on the roof of LaCote restaurant surrounded by cabanas and sun loungers with a view of the whole property as well as the ocean.This renowned ocean side focal point will remain as glamorous as when James Bond and Goldfinger sat by the pool for a heated game of gin rummy. At LaCote – YOU ARE THE SHOW!
Private cabanas with personalized service surround the Oasis pool at La Côte. Each cabana is equipped with a 32-inch, flat-screen television, wireless internet, butler service, mini refrigerator, phone with data connection and a digital safe able to store a laptop or other valuables.
– Bottles of VODKA starting at $200
– PITCHER SANGRIA SPECIALS
– PITCHER MOJITOS SPECIALS
– CHAMPAGNE FOR GROUPS OF 6 OR MORE HOT LADIES IN BATHING SUITS (inquire about details)
– DAY BEDS
– CABANAS
– LA COTE RESTAURANT – GREAT BEACH CLUB MENU
✸ FOR EXECUTIVE SERVICE – GROUPS – BIRTHDAYS – CABANA RENTAL – CELEBRATIONS RSVP – swankpro@gmail.com
THIS WEEKS MUSICAL TALENT:
Yanik Coen – http://www.yanikcoen.tv
NIKOLAS – http://www.facebook.com/djnikolas