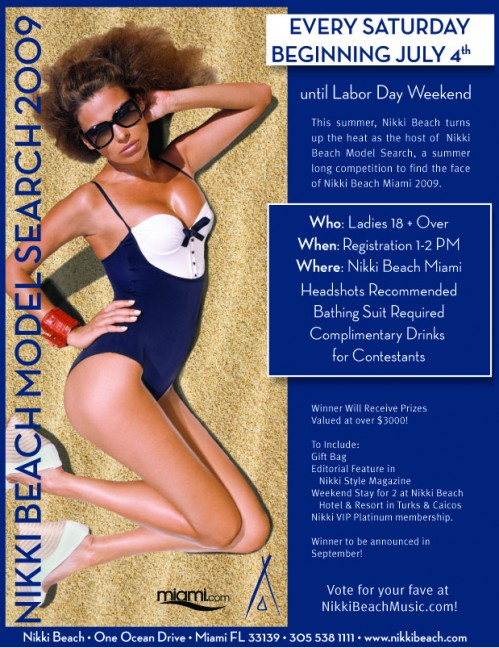 Nikki Style Model Search At Nikki Beach Miami
Suit up for what is sure to be summer's sexiest event
The search is on to find the face of Nikki Beach 2009
WHAT: Beginning this Saturday Nikki Beach invites Miami's finest females participate in summer's hottest competition: become the Face of Nikki Beach 2009. The ultimate see-and-be-seen event begins this Independence Day at 1pm where girls can line up for casting calls, donning their favorite swimsuit, prepared with a head shot (recommended) while sipping on a complimentary drink. Once girls are registered, they will participate in a fashion show judged by special celebrity guests (TBA) beginning at 2pm. After the show, two girls are awarded spots to compete in the final fashion show in September. All registered contestants from that day, however, still have a chance at winning a spot in the final competition. Join www.NikkiBeachMusic.com where members can vote online for their favorite model; details and photos of each girl are listed there. The official Face of Nikki Beach 2009 will be announced after the final fashion show in September and will receive prizes valued at over $3000: a gift bag, an editorial feature in the internationally distributed Nikki Style Magazine, a weekend stay for 2 at Nikki Beach Resort Turks & Caicos and a 1 year Nikki VIP Platinum membership.
WHO: Open to Miami's finest, must be 18+
WHEN: Every Saturday, beginning July 4, 2009 to September 5, 2009
1-2pm Registration
2pm Contest/Fashion Show
WHERE: Nikki Beach
1 Ocean Drive
Miami Beach, FL 33139
305.538.1111
With a reputation for catering to international crowds mingling in a maze of bikini-clad bodies, gleaming white d'cor and equally beautiful clientele and staff, it comes as no surprise that Nikki Beach Miami holds the title as the "World's Sexiest Beach Bar" from the Travel Channel's March broadcast. For over a decade, locals and travelers alike have been flocking to the South Beach hotspot for sun, sounds, and the occasional (or rather frequent) champagne spray. This summer, Nikki Beach turns up the heat as the host of Nikki Style Model Search, a summer long competition to find the face of Nikki Beach Miami 2009.
A joint effort between Nikki Style, Nikki Beach's international luxury lifestyle magazine, and the legendary One Ocean Drive locale, Nikki Style Model Search is the perfect way to check out (and vote for) Miami's finest. The ultimate see-and-be-seen event begins July 4 at 1pm where girls can line up for casting calls, complimentary drinks in hand, that will last every weekend throughout the summer. Details and photos are uploaded to NikkiBeachMusic.com, where Nikki Beach members and VIPs can join the online community and vote. The winner will be selected and announced at a later date in September.
Registration will take place every weekend starting this weekend from 1pm to 2pm and will immediately be followed by a fashion show with all of the registered participants, beginning at 2pm. Contestants must present a head shot and come prepared with swimwear.
For more information visit www.NikkiBeachMusic.com or call 305.538.1111.
About Nikki Beach
In 1997, Nikki Beach introduced the world to the ultimate beach club concept bringing dining, fashion, music and entertainment together. Over a decade later, Nikki Beach continues to make its mark in the world's hottest addresses and trendsetting locales, recently claiming the #1 spot in Travel Channel's World's Sexiest Beach Bars. The Nikki Beach concept has transcended its international venues and grown into a global lifestyle company: a clothing line, Endless Summers by Nikki Beach—which will be launched at the 2009 Cannes Film Festival; Marketing and Public Relations Divisions; Global Sponsorships and Special Events; Nikki Beach Music; a VIP Membership card and concierge program; Nikki Style Magazine; and a Hotel and Resorts Division with 14 new locations to open starting in 2010. In its first year, the new Turks & Caicos Resort placed #2 on the Travel ChannelÕs 21 Hottest Caribbean Escapes.
The Nikki Beach lifestyle can now be experienced in eleven cities, in eight different countries with more locations to come in the near future: Miami Beach, Florida, USA; Hollywood, Florida, USA; St.Tropez, France; Cannes, France; St. Barth, French West Indies; Marbella, Spain; Cabo San Lucas, Mexico; Providenciales, Turks and Caicos Islands; New York City, New York, USA; Marrakech, Morocco; Koh Samui, Thailand; Playa Blanca, Panama. For more information on Nikki Beach, please visit www.nikkibeach.com.