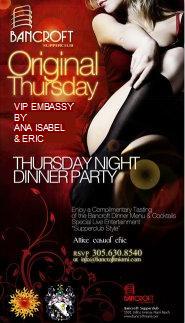 Thursday, July 2nd: "Original Thursdays" Cocktail & Dinner party at Bancroft Supper Club
Party starts at 9:00 PM. 1501 Collins Avenue, Miami Beach, FL 33139.
Dinner reservation: 786.273.8600
You are invited to discover Bancroft, a new restaurant/lounge on 15th & Collins (1501 Collins Avenue, Miami Beach). Every Thursday, Ana Isabel & Eric, along with laurent, Nicolas and Alexander invite you to experience "Original Thursdays": Good food, good energy, good music and good friends….these is the recipe of our "Original Thursday"!
Music by Phase Deux
Thank you for using Soul Of Miami!