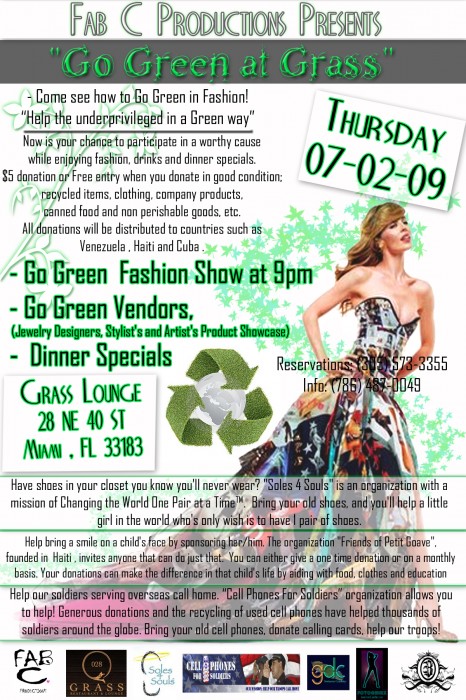 Go Green @ Grass – "Green" Drive
See how to Go Green in Fashion, Help the the underprivileged in a green way
Now is your chance to join a worthy cause while enjoying fashion, drinks and dinner specials..
Grass Lounge 28 N.E. 40th Street
Thursday, July 2, 2009 at 7:00pm – 12:00am
Have shoes in your closet you know you'll never wear? "SOLES 4 SOULS" is an organization with a mission of Changing the World One Pair at a Timeâ"¢. Bring your old shoes, and you'll help a little girl in the world who's only wish is to have 1 pair.
Help bring a smile on a child's face by sponsoring her/him. The organization "Friends of Petit Goave", founded in Haiti, invites anyone that can do just that. You can either give a one time donation or on a monthly basis. Your donations can make the difference in that child's life by aiding with food, clothes and education.
Help our soldiers serving overseas call home."CELL PHONES FOR SOLDIERS" organization allows you to help! Generous donations and the recycling of used cell phones have helped thousands of soldiers around the globe. Bring your old cell phones, donate calling cards, help our troops!
$5 donation or free entry when you donate in good condition; recylced items, clothing, company products, can food and non-parishable goods.
GO GREEN FASHION SHOW @ 9pm
GO GREEN FASHION VENDORS all night..
DINNER SERVED ALL NIGHT