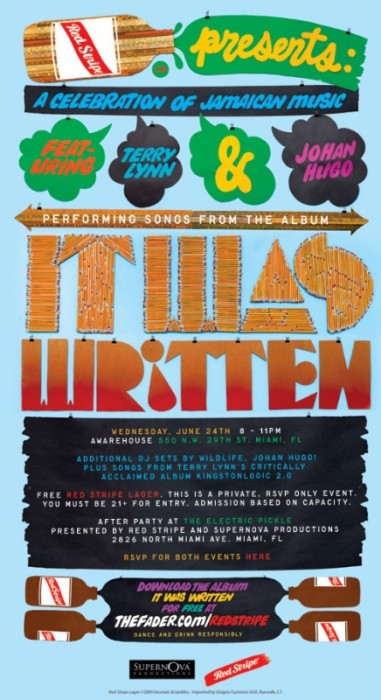 RED STRIPE® CELEBRATES THE INFLUENCE OF JAMAICAN SOUNDS WITH RELEASE OF IT WAS WRITTEN
Release Featuring Johan Hugo and Terry Lynn
Available exclusively at Fader.com
Wednesday, June 24th, 8 – 11PM
Awarehouse (550 N.W. 29th St.), Miami, FL
Additional DJ sets by Wildlife, Johan Hugo! Plus songs from Terry Lynn's critically acclaimed album "KingstonLogic 2.0"
Free Red Stripe Lager
This is a private, RSVP only event. You must be 21+ for entry.
Admission Based On Capacity.
After party at The Electric Pickle presented by Red Stripe
2826 North Miami Ave. Miami, FL
Download the album "It Was Written" for free
The makers of Red Stripe® lager, brewed in Jamaica and known around the world, today announced the up coming release of It Was Written, featuring DJ/production aficionado Johan Hugo and Kingston, Jamaica-based emerging artist Terry Lynn.
The five original musical tracks that compose the release were commissioned by the brewers of Red Stripe to celebrate the worldwide influence, importance and appeal of the rhythms and pulse of Jamaican music.
Red Stripe beer has been brewed in Jamaica since 1928.
Dance And Drink Responsibly
Red Stripe Lager 2009 Desnoes & Geddes. Imported By Diageo – Guinness USA, Norwalk, CT