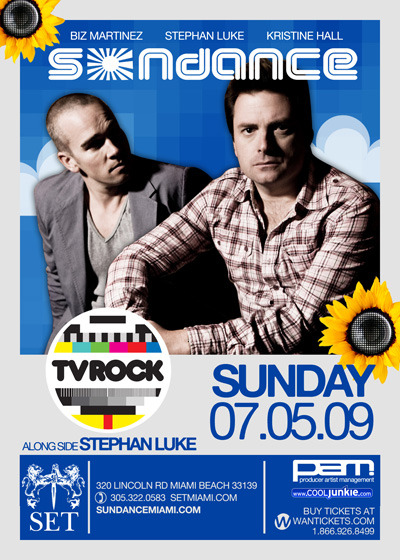 Close out the weekend Sundancing with the Aussie duo, TV Rock along side Stephan Luke. The Australians have been making waves lately with their production/remixing, which happens to include remixes for… [cough, cough] some of the finest in the bizness, including Depeche Mode & Murk. As well as remixes for some "of the moment" superstars like Laidback Luke & fellow Aussie, Dirty South. Get your TV Rock @ Sundance Tickets here!
I know, I know… you're excited. Well, you should be. It's an independence weekend… so express yourself, be yourself, enjoy yourself. Dance with us here.
in the meantime, download the new Sundance "Sound of the 5th Season" CD here.
Independence weekend Event info & Vip Table Reservations call or text 305.322.0583.
Set : 320 Lincoln Rd. Miami Beach, FL
Thank you for using Soul Of Miami!