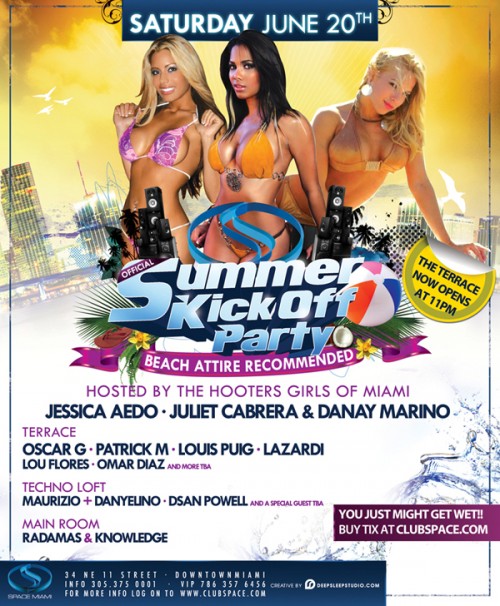 This Saturday, June 20th, Space celebrates the summer solstice in grand style with their Summer Kick-Off Party. Hosting the madness this evening will be some of Miami's resident Hooters Girls, including Jessica Aedo, Juliet Cabrera, and Danay Marino.
Of course, a Summer Kick-Off is nothing without some top musical talent to provide the soundtrack. Taking the decks tonight will be legendary Space resident Oscar G, along with Patrick M, Louis Puig, Omar Diaz, and Lou Flores. The madness kicks off at 11 PM sharp, and beach attire is strongly encouraged…
And if a summer kick-off bash isn't enough, the Techno Loft crew strikes again with another stellar booking. This evening, Miami's purveyours of cutting-edge sounds present Adultnapper.
Francis Harris, as his mother likes to call him, is one part social misfit, two parts musician, and one part party animal. Rocking parties around the globe, Harris, under the Adultnapper guise, has rapidly become one of the most sought-after talents in the world of dance music.
Joining him this evening will be Loft residents Maurizio + Danyelino and Dsan Powell.
Click Here to get on the CoolJunkie Guestlist!