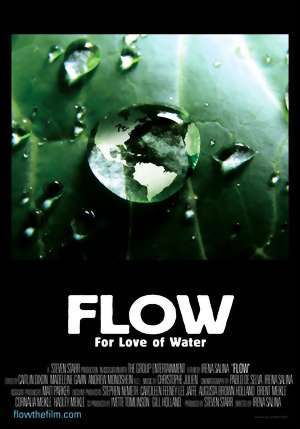 16 TUE 8pm:
"Cinema GREEN"
A NEW environmental film series in collaboration with:
ECOMB, the Environmental Coalition of Miami Beach
An MBC Premiere HD DIGITAL Presentation!
In collaboration with Emerging Pictures
Miami Theatrical Premiere!
FLOW: For Love of Water
"CAN ANYONE REALLY OWN WATER?"
(Directed by Irene Salina/USA/2008)
Irena Salina's award-winning documentary is an investigation into what experts label the most important political and environmental issue of the 21st Century – The World Water Crisis. Salina builds a case against the growing privatization of the world's dwindling fresh water supply with an unflinching focus on politics, pollution, human rights, and the emergence of a domineering world water cartel. Beyond identifying the problem, FLOW also gives viewers a look at the people and institutions providing practical solutions to the water crisis and those developing new technologies, which are fast becoming blueprints for a successful global and economic turnaround.
WINNER: Best Documentary United Nations Association Film Festival
International Jury Prize Mumbai Int. Film Festival
Best Documentary Vail Int. Film Festival
"An ASTONISHING wide-ranging film. An informed and heartfelt examination of the tug of war between public health and private interests."- New York Times
"LIVELY & ENGAGING!"- Los Angeles Times
The film will be introduced by and followed by a Q&A TBA.
For tickets click HERE
Thank you for using Soul Of Miami!