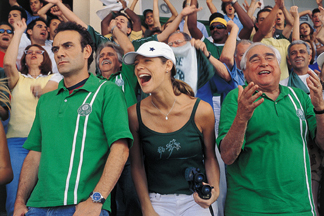 07 SUN 8pm: BFF Tribute to BRUNO BARRETO
Romeo and Juliette Get Married
(O Casamento de Romeu e Julieta)
(Directed by Bruno Barreto/2005)
Cast: Luana Piovani, Luiz Gustavo, Marco Rica, Martha Mellinger
Juliet, a die-hard Palmeiras fan falls in love with Romeo, die-hard fan of rival soccer team Corinthians. Juliet's father would never accept such a son-in-law. Not wanting to lose Juliet, Romeo pretends to be a Palmeiras fan. The lie creates a series of hilarious twists and turns, and when the truth is revealed, the couple's love must rise above their family's sports rivalry.
For tickets click HERE
Thank you for using Soul Of Miami!