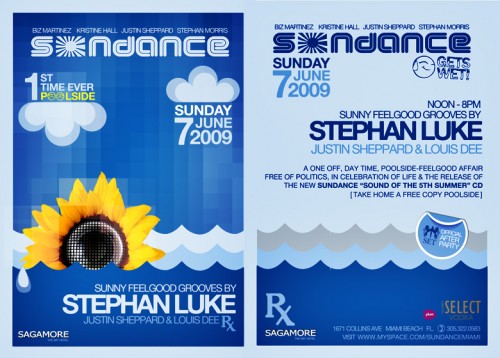 Sunday, June 7th RX/ Sundance At Sagamore w/ Special Guest DJ Stephan Luke
Along w/ Resident DJ's Justin Shepard and Louis Dee
This Sunday, June 7th Sundance get's wet! Sundance joins the RX fam @ the Sagamore for our 1st ever, day time, poolside-feelgood affair… free of club politics, in celebration of life & the release of the new Sundance "Sound of the 5th Summer" CD. Sunny Feelgood grooves by Stephan Luke, Justin Sheppard & Louis Dee. Take home a copy of the NEW CD, poolside… it's our gift to you. Then later when the sun goes down, Sundance with us @ Set.
Facebook RSVP for the Sagamore (Poolside Noon-8PM) & Set (Afterparty 11PM-5AM), call or text us at 305.322.0583.