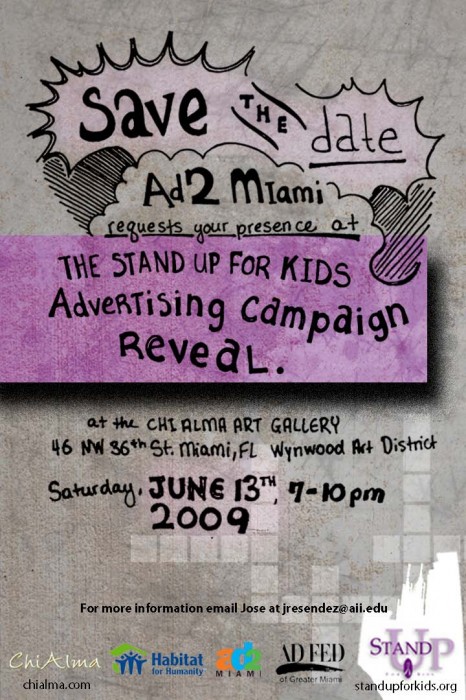 Advertising Federation of Greater Miami | adfedmiami.com
Ad2 MIAMI Reveals Public Service Ad Campaign to
Benefit StandUp For Kids & its Efforts to Help South Florida's Homeless Youth
On Saturday, June 13, Ad2 MIAMI, the young professionals' branch of Greater Miami's Advertising Federation, will reveal an emotional, yet effective public service ad campaign this summer for the nonprofit STANDUP FOR KIDS, an organization that helps the homeless youth and at risk teens. Under the direction of Ad2's executives, Jose Resendez [President] and Kristelle Soto [VP], the unveiling will take place at the unique Chi Alma Lifestyle Art Gallery in the Wynwood Art District, thanks to gallery Curator Henri Almanzar.
The gallery believes in "the energy that drives the soul", and that is exactly what this campaign is about says Jose Resendez, President of Ad2 MIAMI. The campaign's message is directed toward the South Florida community to help raise awareness of the homeless youth problem and to encourage South Floridians to take action and stand up for these kids. Ad2 MIAMI's media strategy includes television, radio, print, out of home, and a strong online presence all in both English and Spanish. The broadcast portion of the campaign recorded at Miami International University of Art & Design's green room studio, features the voice and special appearance of recording artist JEAN Rodriguez, from SONY BMG. Students from the University's advertising club, ADFED MIU, were instrumental in the creation and execution of the multi media campaign.
The pro bono campaign unveiling is scheduled from 7PM to 10PM. The celebration including hors d'oeurves, cocktails, entertainment, raffle prizes and goodie bags. A benefit art sale with proceeds going to Habitat for Humanity and Re Store will also be part of the evening.
What: Advertising Campaign Reveal StandUp For Kids
When: June 13, 2009 Saturday
Time: 7PM 10PM
Where: Chi Alma Lifestyle Art Gallery
Address: 46 NW 36th Street, Across from Dot Fifty One Miami, FL 33127 [Wynwood/Design District]
VIP RSVP/Press: Send an e mail to jresendez@aii.edu
[Ad2] Info: Ad2 MIAMI consists of over 100 local young professionals covering all areas of the communications business, including ad agencies, marketing/PR firms, and collegiate chapters. As part of the Advertising Federation of Greater Miami (300+ members), Ad2 MIAMI is a tight knit group of individuals all striving towards similar goals like camaraderie and exposure, launching initiatives to benefit the advertising industry such as their annual pro bono Public Service Campaign Program.
[Associations] Links: www.Ad2Miami.com agency www.AdFedMiami.com parent chapter www.AAF.org national www.StandUpForKids.org charity www.Habitat.org charity (art) www.MyMIU.edu university www.ChiAlma.com venue www.JeanMusic.net talent www.SONY.com label Ad2 MIAMI | ad2miami.com Advertising Federation of Greater Miami | adfedmiami.com