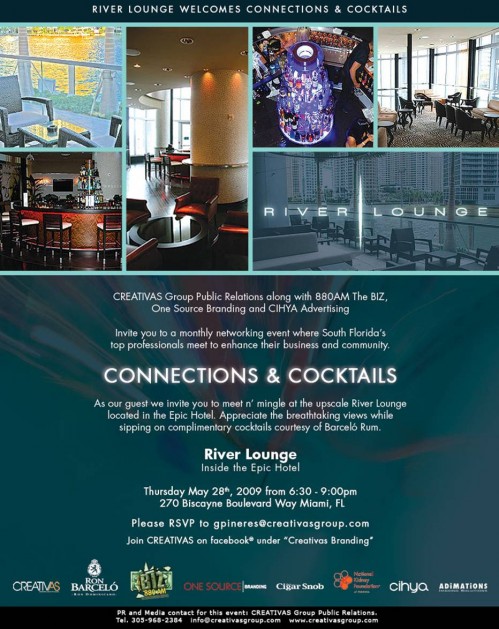 CREATIVAS GROUP PUBLIC RELATIONS BRINGS BACK BY POPULAR DEMAND SOCIAL NETWORKING EVENT CONNECTIONS & COCKTAILS
(Miami, FL) May 26, 2009—Creativas Group Public Relations is ready to bring back South Florida's premier professionals networking event to the River Lounge located in the Epic Hotel. The Connections & Cocktails networking event brings South Florida's top professionals together to improve their business and community. Connections & Cocktails was a concept created to bring decision-makers together in a casual and socially driven environment, as opposed to what many consider "typical" and costly networking events. Co-hosted by Can I have your Attention Advertising and Marketing, One Source Branding, and 880AM The Biz the May Connections & Cocktails event plans to be the most successful one up to date.
Creativas Group Public Relations headed by Liza Santana and Gabriel Pineres came up with the concept after attending various networking events around town. Usually they were found to be affairs where members would have to pay a high membership fee and/or pay a substantial amount to attend each event in a delicate economy. Connections & Cocktails was planned to be a completely different animal and has thrived ever since its launch date over 2 years ago. The concept is simple; bring together a group of active, affluent professionals for a social event at a high-end venue featuring complimentary featured cocktails. There is absolutely no cost for guests to be part of Connections & Cocktails. It's no wonder guests love this event, the casual nature of this affair takes off the pressure to meet, greet, and make contacts found at other networkers and "mixers." Connections & Cocktails started out as a small event with an attendance of about 40 guests. Today the event attracts between 300 to 400 guests solid.
This month's Connections & Cocktail is brought to the River Lounge. Located in the Epic Hotel River Lounge is considered Down Town Miami's newest hot spot. With a gorgeous view of the Miami River this venue features two stories of architectural brilliance. Guests will enter the River Lounge and enjoy the company of South Florida's movers and shakers while sipping on complimentary rum cocktails provided by Barceló Rum which was awarded the title of best rum in the world by the Chicago taste institute two years in a row. Feature sponsor Adimation Imaging Solutions will be on hand to show case their unique and eye catching printing services. Adimation has provided printing solutions to global companies such as Bacardi and Budweiser. Cigar Snob magazine which caters to the business person who loves nothing more than to have a great cigar after a long days work will be on hand to showcase this month's current issue. Every event produced by Creativas Group, highlights a featured charity partner. For this event, it will be The National Kidney Foundation of Florida. Event Co-host 880AM The Biz, will feature a live radio broadcast of the popular The VIP show starring on air personalities Tony Calatayud and Jorge Guevara. For more information on 880AM and The VIP show, please go to www.880thebiz.com.